Gilroy Home Remodeling Services
DreamHome Remodeling & Builders has been proudly serving the San Jose Bay area for years and counting. Our Gilroy home remodeling contractors have been remodeling houses near you for years. Each of our contractors has the required skillsets and experience to pull off small-scale and large-scale remodeling projects. From simple kitchen remodeling projects to an entire home remodeling project, we can carry out all kinds of home remodeling projects.
Gilroy Home Remodeling Services
Our home remodeling services include:
ADU (Accessory Dwelling Unit)
Bathroom remodeling
Exterior walls construction
Fireplace installation
Home additions
Home remodeling
Kitchen remodeling
New construction homes
Most of our clients come to us to transform their old kitchens into contemporary open-style kitchens. We have carried out hundreds of kitchen remodeling projects near you.
Gilroy Kitchen Remodeling
The kitchen in our house is undoubtedly the most important space in the entire house. It is where we cook meals and spend quality time with our family. Therefore, it is important to have a kitchen that allows you to move freely and make the most of the time you spend there.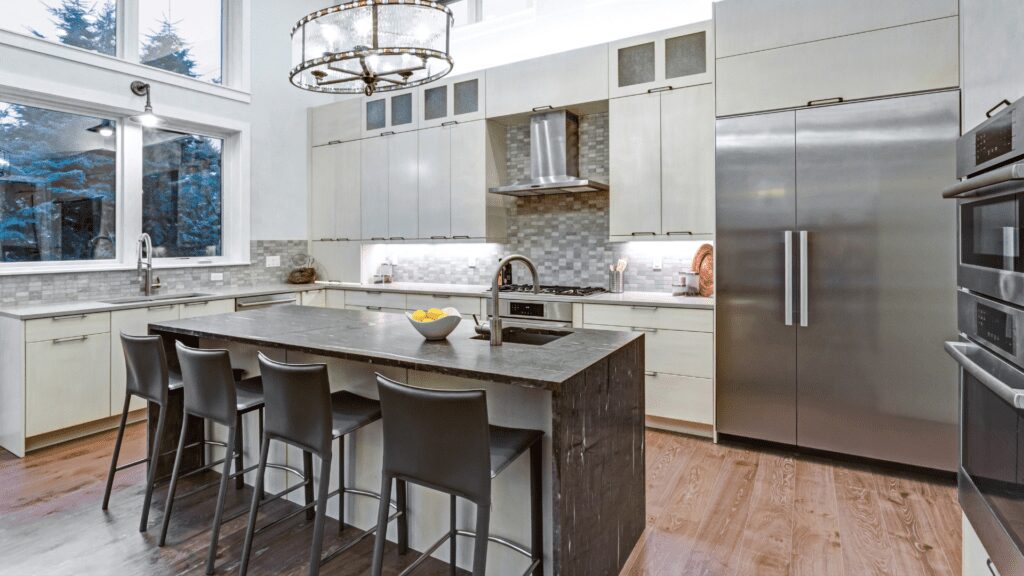 Here's how we transform your kitchens into beautiful spaces full of warmth and lots of light!
Kitchen Décor
Although you may feel like décor in the kitchen is too much. But it can truly liven up your space and transform it into a beautiful space. We install the most stylish fixtures and lightings throughout your kitchen to create a statement.
We also make sure to build a window in your kitchen if the space allows. Natural lighting coming into your kitchen would motivate you to wake up an hour earlier every morning and enjoy a great breakfast with your family.
We add comfortable and chic bar tools around the kitchen island where you can happily sit with your family and enjoy breakfast or have a drink at the end of the day. These are some of the smallest things that make the most impact in your kitchen.
Space for Everything and Everyone!
Another important aspect of your kitchen is the space you should have for both your family members and your utensils. You got to have a lot of storage in your kitchen so that your countertop looks less cluttered.
During a kitchen remodeling project, we make sure to find a place for everything and redefine the functionality of your space. We install spacious cabinets wherever possible to ensure that you have ample space to accommodate all the utensils, dishes, and food ingredients.
When you have everything organized in the cabinets and your countertop and kitchen island are all free from the clutter, you will realize how therapeutic your kitchen can feel. You will actually enjoy eating a meal with your family there, rather than getting anxious by all the cluttered jars and plates.
A less cluttered kitchen will help you move around freely and cook anything easily. You will know where the ingredients are, and you won't have to sort through a pile of spice jars to find the right one.
In addition to improving the functionality and look of your kitchen, a kitchen remodeling project can also massively increase the value of your property. Interested buyers will prefer a newly built kitchen over an old one.
So if you are looking for Gilroy home remodeling services, call us now and get your kitchens remodeled at the best prices.
Call Us Now!
At DreamHome Remodeling & Builders, we offer all kinds of home remodeling services. Call us at (408) 539-2340 to reach out to our Gilroy home remodeling contractors and schedule a free estimate. Our team will go over your remodeling plans with you and give you a free estimate for the services required.