Kitchen

Remodeling

San Jose
Get A Kitchen Remodeling Quote
Service:
Kitchen Remodeling
The kitchen is known as the heart of the home. Kitchens bring people together to enjoy a delicious meal or simply to enjoy each other's company. Unfortunately, a poorly designed, dysfunctional, uncomfortable, or outdated kitchen can become a space you want to keep guests away from, not invite them into. Kitchen remodeling is the best way you can improve your home's kitchen and bring family and friends together.
Kitchen remodeling poses significant advantages for homeowners. Not only will you improve the space as a whole, but you also enhance your home. Realtor.com performed a survey, and 80% of homebuyers put the kitchen on their list for the top three most important spaces. With such significant importance in a single room, a kitchen remodel in San Jose should be an easy choice.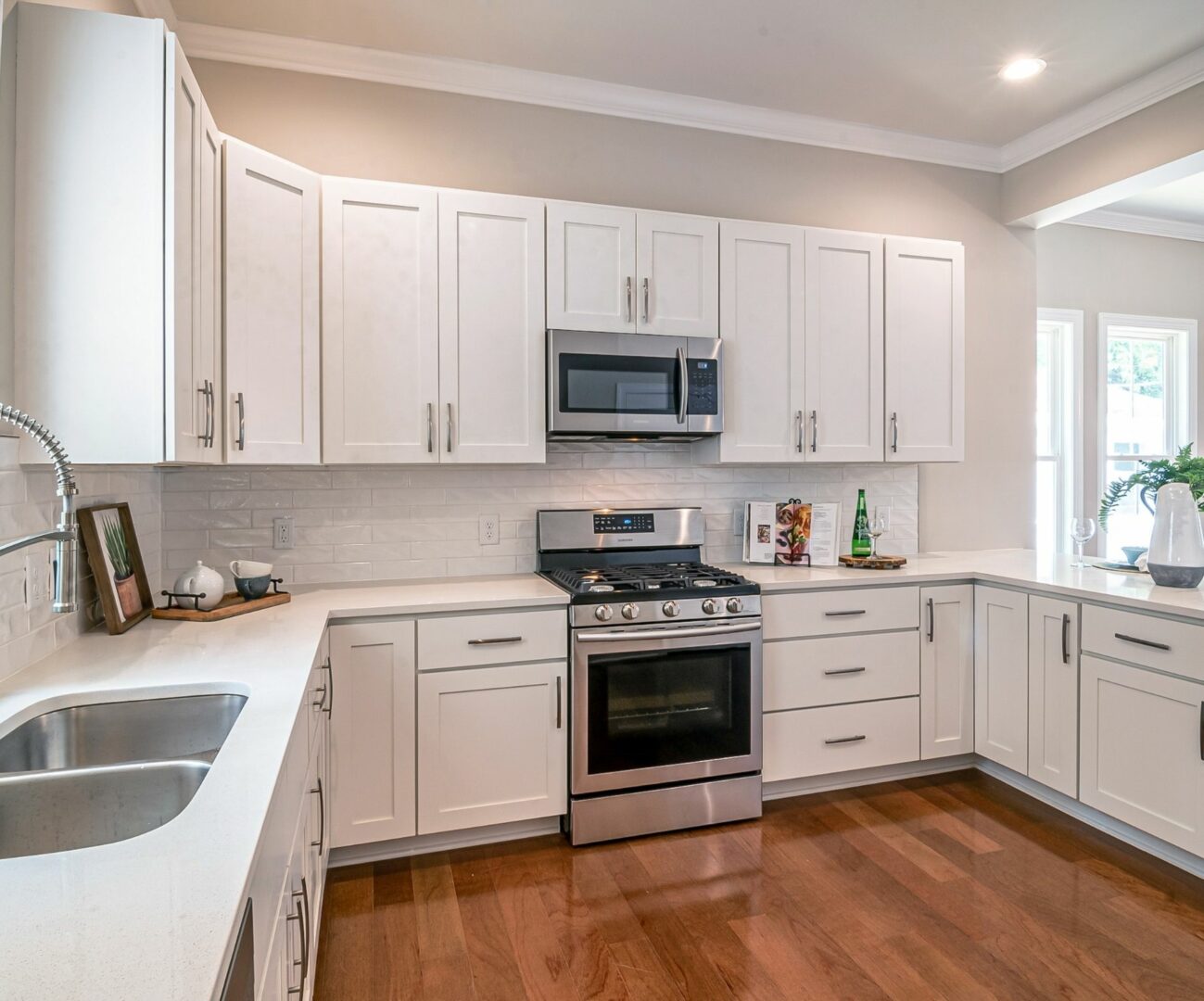 Benefits of Kitchen Remodeling
The biggest benefit of a
kitchen remodel in San Jose
is the improvement to your home's value. The 
average return on investment
for a major kitchen remodeling project is approximately 46%. This means if you are spending $70,116 on the remodel, you'll recoup an estimated $32,253. Of course, these numbers are averages and vary across the entire United States, but a kitchen remodel can be a significant factor in the future resale value of your home or property.
Energy Efficiency: Money is always a major factor in any remodeling project, but kitchen remodeling is capable of helping you save money in other areas of your home. Older appliances like your refrigerator or dishwasher tend to be less efficient with energy and water. This leads to higher bills every month and wasted resources. By upgrading to newer and more efficient appliances, you can reduce energy consumption and while updating the look and functionality of your space.
Enjoy Cooking: It is important to mention your appliances will not be the only thing running more efficiently after kitchen remodeling. You will too! Often, the cause of a kitchen remodel is a lack of space, poor efficiency, and a general dislike of the space. When these issues persist in your kitchen, you cook less efficiently and less often! You should enjoy, not dread, the time you spend in your kitchen. A kitchen remodel helps you feel more comfortable while cooking, which results in a happier and healthier home.
Fewer Injuries: As you and your kitchen operate more efficiently, expect fewer injuries. Cramped and dated kitchens have an increased chance of causing burns, cuts, and overexertion. Old appliances may not work like they should, causing potential burns or bruises. Cluttered kitchens can create situations where you can easily make a mistake.
Entertain Guests: When you dislike the appearance of your kitchen, you will be reluctant to invite friends and family into your home. In modern, open-concept houses, the kitchen is the center of the entertaining space, and a kitchen that feels cramped or outdated will have you dreading the arrival of guests. A kitchen remodel can make you feel like the host with the most!
DreamHome Remodeling & Builders believes you should take advantage of kitchen remodeling because of the many benefits it offers. Our kitchen remodeling contractors can make your dream kitchen become a reality. We will revamp your entire kitchen, from the appliances and flooring to the layout and style.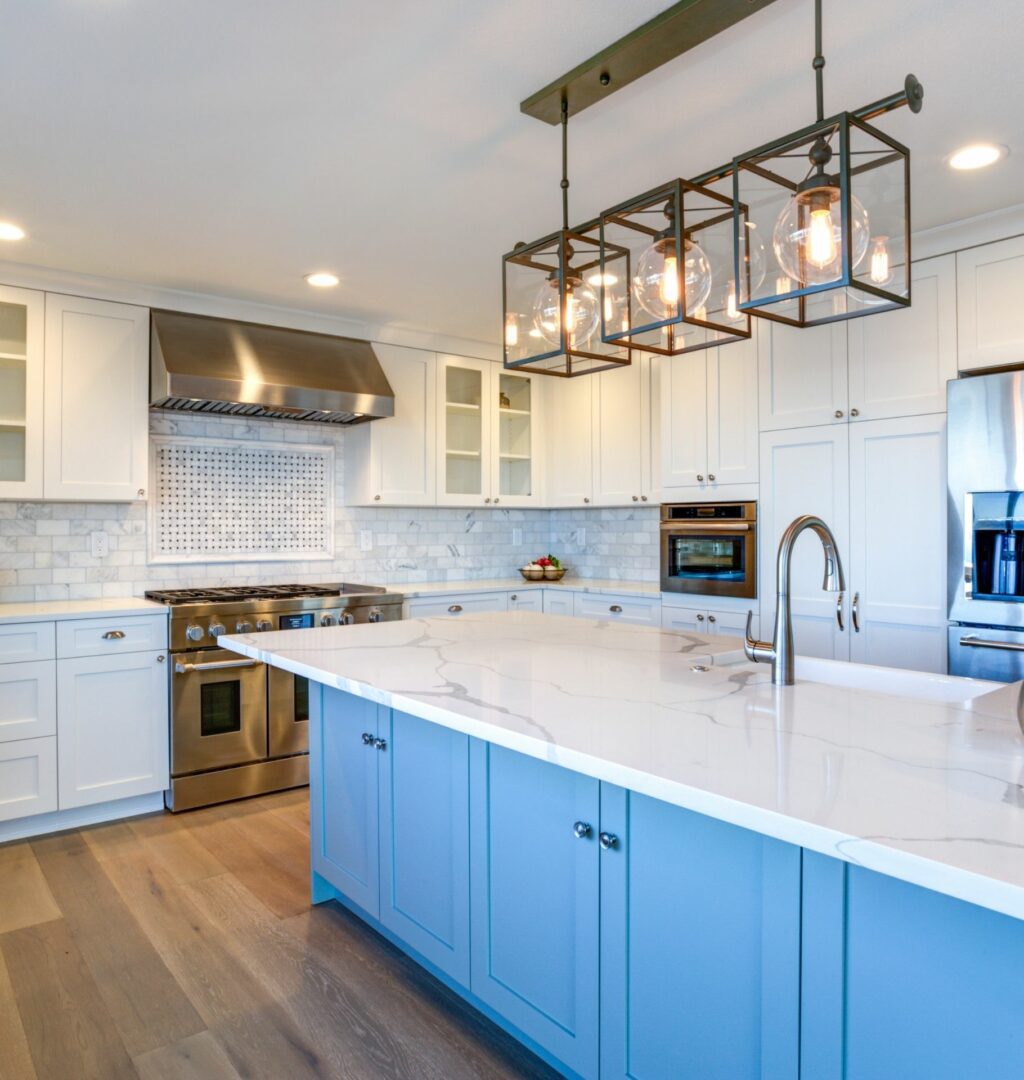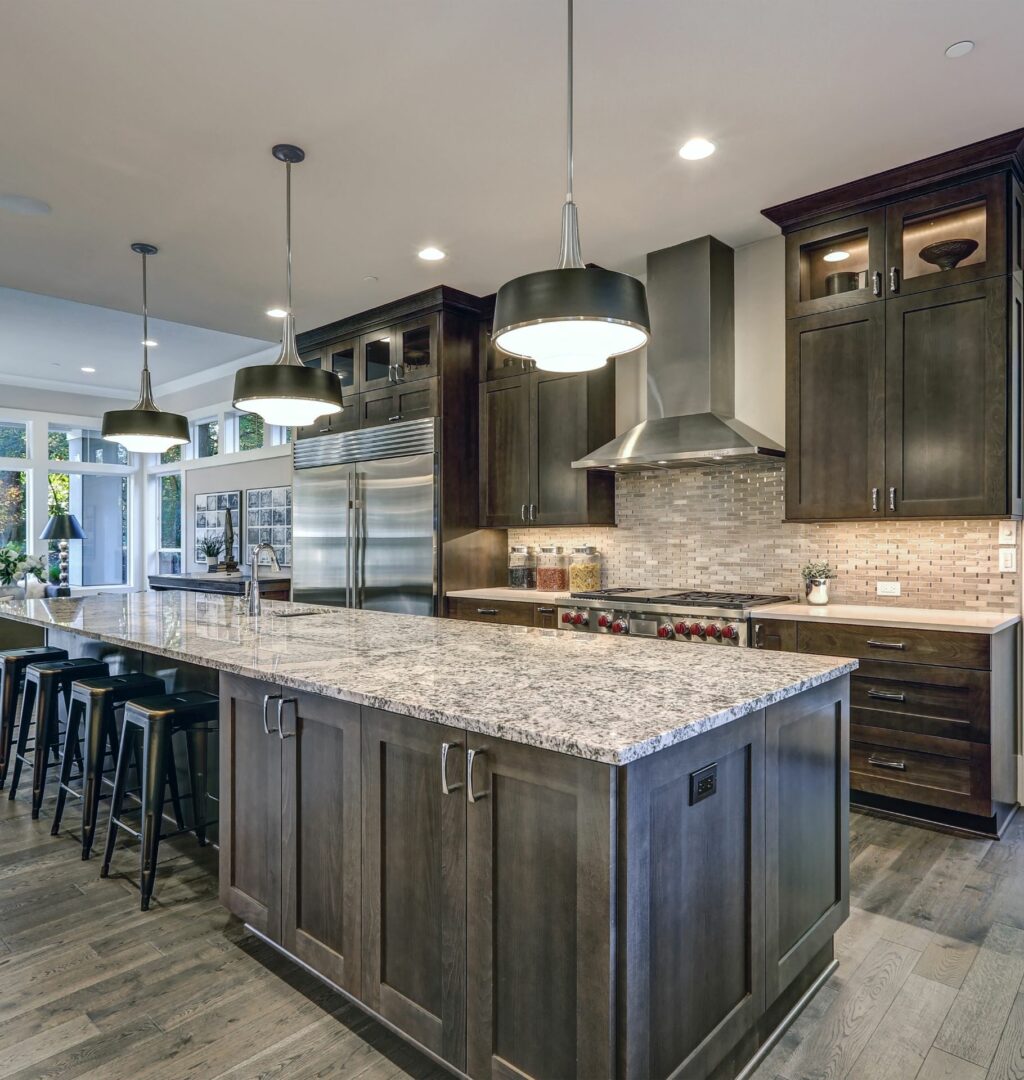 Our Kitchen Remodeling Process
Here at DreamHome Remodeling & Builders, we believe you should know our entire kitchen remodeling process. The designers and contractors on our team utilize their years of experience and industry knowledge to deliver results homeowners have only been able to dream about–until now!
You can get an understanding of our kitchen remodeling process below:
Meet a Project Manager
Demolition of the Kitchen
Install New Plumbing
Install Electrical and Lighting
Close Walls
Install Countertops
Apply the Backsplash
Install New Appliances
Enjoy Your New Kitchen
If you have any questions about any of the above steps in our kitchen remodeling process, contact our team today. When speaking with a project manager, they will discuss each of these details with you too. They walk you through the process, discuss the types of materials, and provide an accurate estimate.
A kitchen remodel is not a small project, so it's normal you may have questions regarding your own. We have listed several questions and answers below that may help you feel more comfortable about moving forward.
How much does a kitchen remodel cost?
The cost of your kitchen remodel will depend on several different factors. The materials used, the scale of the remodel, and the area you live in will directly affect the cost of your remodel. With that said, the average cost of a major kitchen remodel in San Jose is $79,623. You can receive a more accurate estimate for your own kitchen by requesting a free estimate from DreamHome Remodeling & Builders.
Do you need a permit to remodel a kitchen?
Yes, San Jose and surrounding areas require a permit when there are changes to the structural, electrical, plumbing, or mechanical configurations of any building or home. DreamHome Remodeling & Builders will obtain the necessary permits for your kitchen remodel.
How long does a kitchen remodel take?
Like the cost of a kitchen remodel, the time it takes to complete a remodel is based on different factors. For kitchen remodels that are simply replacing old materials and appliances, you can expect a time frame of about 6 to 8 weeks. This estimate is for a moderately-sized kitchen.
Larger kitchens and more custom kitchen remodeling projects will take longer. If your kitchen remodel includes structural changes or changes in the floor plan, you can expect a longer kitchen remodel at about 10 to 12 weeks.
Free Estimate for Your Kitchen Remodel
DreamHome Remodeling & Builders can create the kitchen of your dreams. We work directly with you to make your dream kitchen a reality. Give our team a call today at (415) 650-2586 to learn more about our kitchen remodeling services. By requesting a free estimate, you are one step closer to your dream kitchen.
"Building your own home is about desire, fantasy. But it's achievable; anyone can do it.
- Kevin McCloud
Let's Design Your Home. Together.
Our general contractors and design team are excited to develop and build your dream home. Get in touch with our team today for a free estimate. We will help your dream become a reality. When meeting with a project manager, general contractor, and designer, you can begin to see your vision materialize. Don't wait to live in your dream home—it is closer than you realize.