When it comes to kitchens, there are so many fun materials you can play around with to create intriguing designs and aesthetically pleasing surroundings. Regarding flooring, there are so many woods, tiles, laminates, and types of vinyl to choose from. When it comes to countertops, there are so many varying marbles, granites, woods, and stones, each with unique colorings and patterns. And lastly, there are backsplash materials. Backsplashes are an inventive way to create more dimension and attraction in your kitchen, and there are so many materials to choose from. 
The Basics of Backsplashes
A backsplash is a surface you can install on the empty wall space between your countertops and cabinets. It acts as a vertical countertop extension but doesn't have to be the same material as said countertop. The purpose of a backsplash is both functional and cosmetic. Fun geometric patterns or traditional subway tile act as an additional facet of character in your kitchen while also protecting the wall from splash damage while you cook on the stove or use the sink. 
As far as installing backsplashes goes, they are relatively easy to install. Many are made from ceramics or porcelain tile, and tile is easy to work with. When installing a tile backsplash, the trick is to apply a thin layer of mortar to the wall. Next, apply the tile to the wall, ensuring the mortar is still wet. Starting with straight rows and maintaining that throughout is the best way to do it. Lastly, press grout into the seams with a rubber float, which provides lasting strength to the structure. 
5 Trendy Backsplash Materials
Ceramic or Porcelain Tile
Ceramic tile is the most popular backsplash material. They are incredibly durable and versatile, coming in many shapes, sizes, and colors. According to Forbes, the most common type of ceramic tile is the glossy, glazed look, which costs about $1.25 to $10 per square foot, making it one of the least expensive backsplash materials available. Other types of ceramic tile include handmade inlaid, matte glazed, crackle-glazed, hand-painted, metallic, mosaic, and large format. 
Coming in fewer variations but longer lasting, porcelain tile can come in various appearances, such as stone, wood, or glass. This type of tile is more expensive than ceramic at $7 per square foot. However, there is less maintenance.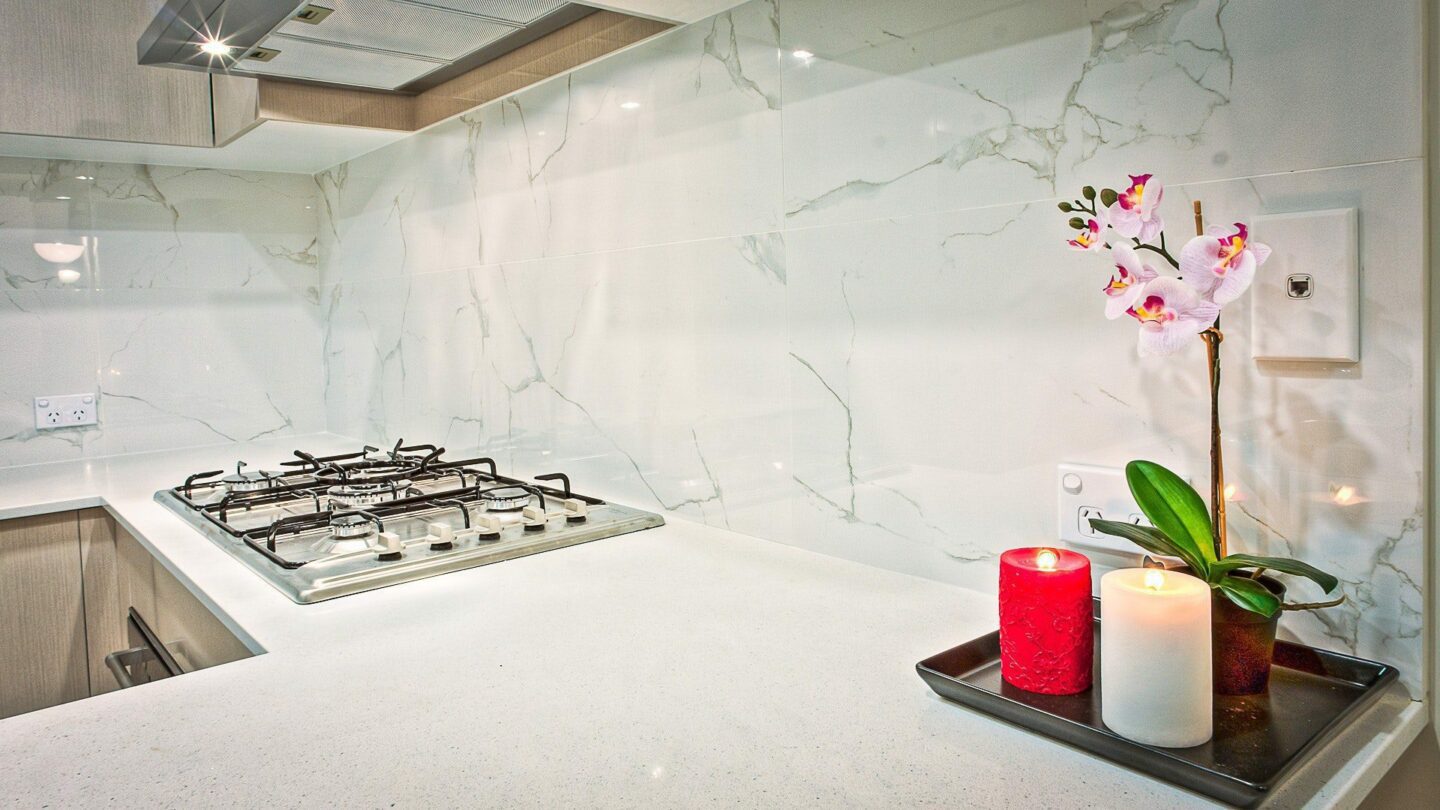 Countertop Material
A unique feature that isn't done too often is using the countertop material as the backsplash material. If you have a pretty quartz, marble, or granite countertop, a beautiful statement to any kitchen is to continue the material vertically up the wall. This creates a luxurious and intimate mood in any kitchen. 
Glass Tile
Like ceramic tile, glass tile comes in various shapes, sizes, and colors. Running $9 to $18 per square foot, this is slightly more expensive than the cost of ceramic or porcelain. Some of the many types of glass tile are glossy, frosted, matte, and iridescent. Glass tile commonly reflects the light from windows or light fixtures, depending on the type you choose.
Stainless Steel
If you want to go for a modern or industrial look in your kitchen, stainless steel is one backsplash material to help achieve this. It is easy to clean and durable but is a more expensive option. Costing an average of $13 to $30 per square foot, there are many patterns you can arrange the stainless steel. One fun way to use a stainless steel backsplash is to incorporate other backsplash materials, such as glass. 
Peel-and-Stick Tile
Last but not least is peel-and-stick tile. This is the most DIY-friendly backsplash material available as it is an adhesive and only needs to be cut with scissors instead of requiring special tools to use. The price range varies from $6 to $25 per square foot, but the savings come from not needing to spend money on external labor costs. 
Finding the Best Backsplash for You 
If you need help finding backsplash materials or have questions about what material would look best in your kitchen, don't hesitate to contact the experts at DreamHome Remodeling & Builders. Get in touch with our team today for a free estimate. We will help your dream become a reality.