When it comes to the flooring of your house or office, you generally have to choose between ceramic tiles and wooden floors. Ceramic tiles are very easy to maintain, and they last decades. However, they easily get dirty and trap dirt and grout. You don't necessarily have to redo your entire flooring if your tiles are dirty. You can clean and polish them to make them appear brand new.
Here's how to clean and maintain tile floors:
1. Use a Vacuum or Dust Mop
Ceramic tiles easily catch dirt and dust, which can easily be spotted. Use a vacuum or a dust mop to get rid of dust and dirt. Do it before it gets trapped in the grout and stays there forever. This is the best way to remove dust and dirt. However, make sure to use a fluffy dust mop and avoid using straw brooms as they leave behind scratches.
2. Mop Your Floor Once Every Three Days
Tiles easily get stained with sticky materials or food and drinks, leaving behind nasty stains. Use a wet mop with warm water every once in a while to wipe away any stains and leave your ceramic tiles glossy and shining. Make sure to use a mop that is only slightly damp so that your floor is not slippery and it does not trap any dirt.
3. Use Absorbent Cloths to Clean Up Spills
If you spill anything on your tiles, act quickly and grab an absorbent cloth to wipe up any spills so that it doesn't collect dirt. Wiping your floor right after something has been spilled would make sure there are no stains build up on your floor. You can use a cleanser or a disinfectant liquid to clean dirty and sticky spills.
However, if you have meat stains and any other nasty spills on your floor, you will need a stronger cleaning agent to clean your ceramic tiles and prevent bacteria from setting. But make sure you use mild cleaning agents or water to wipe such stains.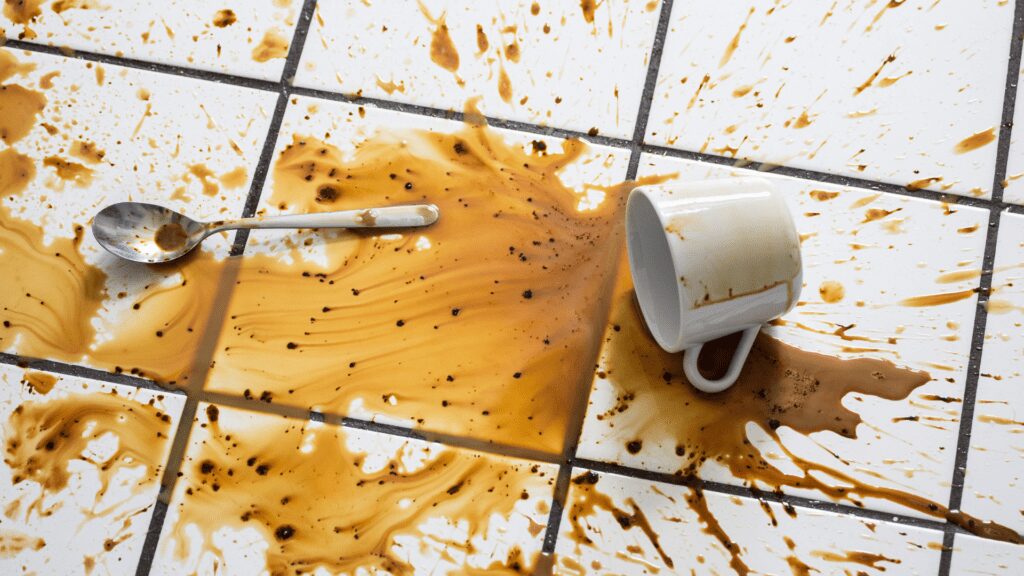 4. Cover Your Tiles with Rugs and Carpet
If you feel like your ceramic tiles easily get stained, you can place rugs or runners in areas that are mostly used on your floor, such as the entries or exits to your rooms. Placing rugs on such areas would prevent scratches, dirt, dust, and dull spots on your floor.
You should also consider placing doormats to prevent mud and water stains from rough weather conditions. You should also place a bathmat on your bathroom tiles.
5. Clean Grout
The grout in your ceramic tiles is the first to trap dirt and debris. Dirty grout makes your tiles look extremely ugly and old. You can use homemade cleaners to clean grout. Create a cleaning mixture using water and baking soda for grout. Pour this mixture evenly onto the grout and allow it to sit overnight. The next day, use a small brush to scrub the grout and then rinse the area with hot water.
Following this method would ensure that your tiles stay clean for years to come. You can repeat this deep clean process every now and then.
Get Ceramic Flooring Installed
That's all about how to clean and maintain your ceramic tile floors. If your tiles are old and have too many dull spots, you should consider redoing your flooring. At DreamHome Remodeling & Builders, we offer all kinds of flooring services to repair or replace your flooring. You can choose from many flooring options, including tiles, wooden flooring, vinyl, carpeting, laminate, and more. Get in touch now to schedule an appointment at (415) 650-2586 or a free estimate.