When renovating or remodeling your commercial kitchen, flooring should be one of your major focal points. This aspect of your kitchen may be one of the most critical portions of your commercial kitchen because of important it is to the tasks your employees perform. Neglecting commercial kitchen flooring can cause injuries, reduce efficiency, and may impact your property value.
DreamHome Remodeling has assisted many in developing the perfect commercial kitchen for their restaurant, bar, bakery, butcher shop, or other business. Commercial kitchen flooring should not be a detail you briefly look over. It is a feature of your kitchen that has many considerations, some of which we will discuss here.
Qualities to Consider
A lot goes on in a commercial kitchen: fluctuating temperatures, heavy foot traffic, and various temperatures will take a toll on your kitchen flooring. With such intense activities occurring, your kitchen needs the right flooring to withstand all of it. So, there are some qualities you must look for in commercial kitchen flooring.
Safety: Above all, safety is the most important quality to uphold in your kitchen, not to mention the flooring. Your employees will be moving a lot in your kitchen, so they need a slip-resistant floor to help them stay upright. Your employees also won't be the only ones in your kitchen; health officials and delivery drivers need a safe surface to walk on too.
Comfort: Your employees are going to be standing on your kitchen flooring for long periods of time, meaning it needs to be comfortable. Harder surfaces will cause discomfort, which subsequently reduces efficiency and motivation in employees. Opting for a comfortable flooring option will do wonders for your employees' feet.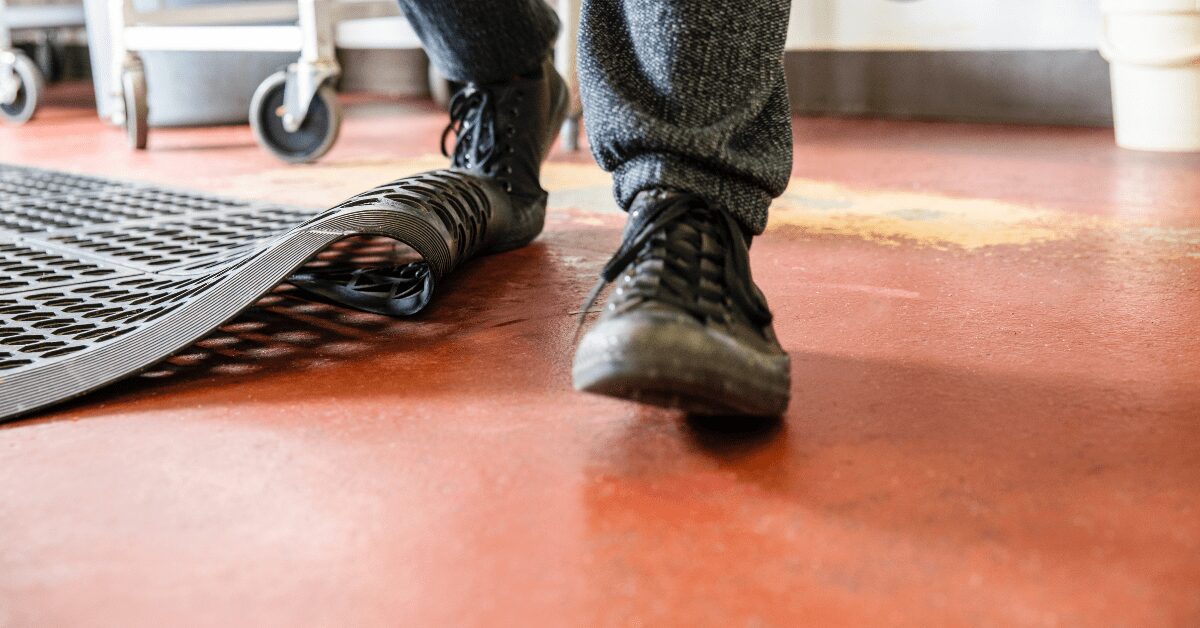 Easy to Clean: A commercial kitchen is bound to see a mess or two. When your kitchen flooring becomes a mess from an accidental spill, it shouldn't take hours to clean up. Instead, your employees should be able to remove the spill in minutes and get back to work as soon as possible. Commercial kitchen flooring that isn't easy to clean up won't last as long in an intense environment.
Design: The style of your kitchen should also be incorporated into the flooring. Choosing the wrong color or texture can clash with the rest of the design choices you have made along the way. Fortunately, there are many ways you can implement subtle design choices in your kitchen flooring.
Popular Types of Commercial Kitchen Flooring
The qualities listed above cannot be found in every type of flooring. For that reason, there are only a couple of choices to choose from. The two most popular types of commercial kitchen flooring are ceramic tiles and vinyl. Both of these materials serve to be great choices in any commercial kitchen, but they do have their pros and cons.
Ceramic Tiles
Ceramic tiles are made from clay that is fired in a kiln. It comes in porcelain or non-porcelain additive, which changes the process slightly. Porcelain is water-resistant but is much harder than the ceramic counterpart. Either option is suitable for kitchen flooring, but many choose water-resistant porcelain. A melted glass glaze covers the ceramic, which can be customized with different designs and colors.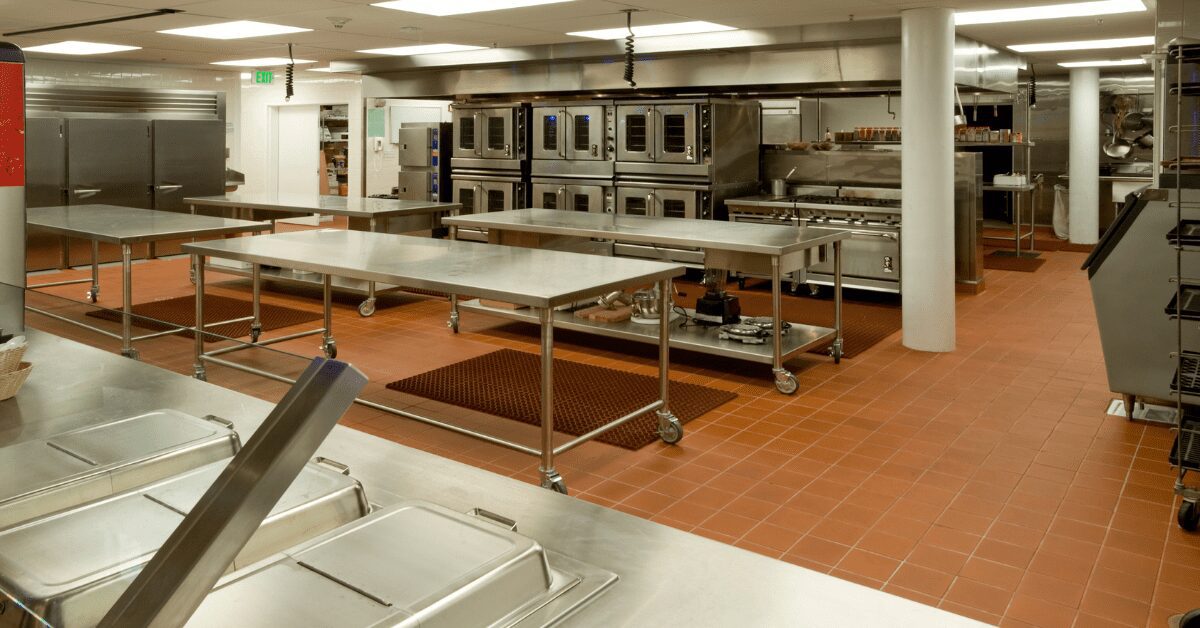 Vinyl
Vinyl flooring is made from a mix of natural and synthetic polymer structures. This type of flooring is extremely durable and has many design options to choose from. In total, vinyl flooring has three different types: vinyl composition tile, luxury vinyl tile, and sheet flooring.
The two stronger options are luxury vinyl tile and sheet flooring. For maximum durability, we recommend these options since they will last longer and take more brute force. Since vinyl is primarily synthetic, the top film can be designed however you like.
Other Options
Ceramic tiles and vinyl are not the only two options for commercial kitchen flooring. You can also consider natural stone tiles or brick. These choices are more expensive than the aforementioned options, but they play a major role in branding and aesthetics. Businesses with open kitchens or kitchens viewable from seating areas will find brick and natural stone more attractive. Since customers can see the kitchen from where they sit, you'll want to provide the best ambiance possible.
Replacing Your Commercial Kitchen Flooring
When renovating or remodeling your commercial kitchen, your flooring should not be ignored. It is an essential quality of your kitchen and directly affects your employees who stand on it daily. For more insight on commercial kitchen flooring or commercial kitchen remodeling, contact DreamHome Remodeling & Builders.
You can reach our team by calling (415) 650-2586 for a free estimate or visit our contact page to fill out the form. You should also visit our commercial contractor's page to learn more about our services. We look forward to helping your small business remodel.