Your home's basement is a go-to storage space. You'll find anything from family memorabilia to holiday decorations in your basement. However, what if you could give your basement a new purpose by making it more than just an in-home storage shed? A basement conversion can make this change possible. Of course, money is no object, so how can you repurpose your basement without breaking the bank? Luckily, these five cost-efficient basement conversion ideas can help make your new basement dreams a reality.
5 Cost-Efficient Basement Conversion Ideas
If you want to revamp your basement without spending too much money, you should check out these five cost-efficient basement conversion ideas right here:
1. Paint And/Or Accent Wall And/Or Ceiling
You can give your basement a fresh look by painting or accenting the walls and/or ceiling. To clarify, while painting is the straightforward process of using paint to change the color of your basement walls and/or ceiling, accenting involves variety in the walls and ceilings. More specifically, you can mix things up by giving one of the walls (or part of your ceiling) a different color or pattern from the others. Take time to decide what aesthetics are to your liking and what colors and patterns would best complement your new and improved basement space.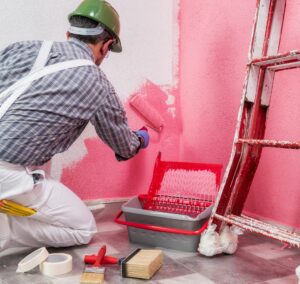 2. Customize The Staircase
The least expensive part of a basement conversion is actually the staircase leading to it, making this cost-efficient basement conversion idea very worthwhile. The customization options for your basement's staircase are endless. You can add carpeting, change the railings, paint the risers, and even add a minibar, workspace, or bookshelf to the area beneath the staircase in your basement. Don't miss out on the opportunity to make the most of your basement conversion by giving guests a sneak peek at what's in store with the stairs.
3. Add Shelving And Storage To Walls
Where cost-efficient basement conversion ideas are concerned, you'll still need a place to keep essential items, so why not make it stylish? Whether you plan to turn your basement into a second living room, a library, or a game room, you can add shelves to the walls to give your storage a fresh look.
4. Create Spaces With Dividers
Depending on how you plan to use your converted basement, it's a good idea to differentiate how each part will be used. You can create those distinct spaces with dividers. These items can come in a variety of materials and styles, so you can find the ones that will best match the rest of your converted basement. Whether you're creating a multipurpose room for the kids or creating different sections in a game room, dividers will definitely make this basement feel like a communal space.
5. Decorate To Your Liking
Finally, the most cost-efficient basement conversion idea you can implement is to buy secondhand decorations or make your own to adorn the space. There's no better way to make a space your own than by decorating it to your liking. You can hang up your own artwork and posters, give old furniture a new purpose, or exhibit your latest collection of interesting items.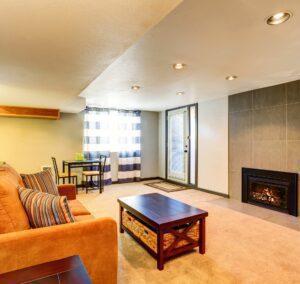 Reach Out To DreamHome Remodeling For Assistance!
While there are many cost-efficient basement conversion ideas to choose from, we hope these five can help you get started. If you have room in your budget to do a high-level basement conversion, you can consider hiring a remodeling service to make it happen. If you live in California's Bay Area, all you need to do is contact us at DreamHome Remodeling. Our team will make your basement conversion so incredible that you'll forget it was ever a basement in the first place.