Introduction to Home Additions
Home additions are a solution for homeowners looking to make their current home a closer representation of what they want or need. This may include adding an additional bedroom for a family member or a sunroom to enjoy the summers. Whatever the reason, home additions are much cheaper than having to buy a new house and move. 
No one likes moving. It takes more than just money out of your pocket. It also takes a toll on your emotional and physical well-being. Many homeowners would choose to stay in their current home if it could meet their needs or wants. Home addition projects make that possible. While you may think you're current house cannot be expanded upon, this guide could help you realize it's possible!
This home additions guide is written for all homeowners and will teach you the following:
Why you would pursue a home addition and the many different types suitable for your situation

How to plan for a home addition

How to find the right home addition contractor for the job

Whether or not you should live in your home during the project or stay elsewhere
Why Pursue a Home Addition?
For many homeowners, a home addition doesn't come to mind when they think about their house not fitting their needs. Instead, it often jumps to having to move. That isn't always necessary since most homes can be expanded upon. If you haven't heard of home additions before or haven't considered it, you may want to consider why you would choose to add on to your home rather than move.
The most common reasons for home additions are:
Growing family

Storage problems

Work-life balance

Design problems

Add new qualities
Growing Family
Families change and grow over time. You may have moved into your home with no kids and now have three running around. Or is it you have an elderly family member joining your household? Regardless of who you need room for in your growing family, a home addition can significantly help you.
It may be that you have too few bedrooms or one bathroom isn't enough for five people. Thes problems put stress on areas of the house and family members. Schedules can conflict creating people to be late to work, school, or their engagements.
On the other hand, maybe your living room isn't large enough for everyone to enjoy family gatherings. It could be your dining room isn't large enough for a table that can seat everyone. These issues and many more are linked to a growing family. A home addition project can significantly reduce the stress on the family and give everyone the space they need to take a breath.
Storage Problems
Do you need a walk-in closet? Is there no room in the garage? Does the kitchen lack a pantry? Storage problems plague houses across the United States. This is a serious issue that many homeowners run into after accumulating so much stuff over the years. Building a home addition with a focus on storage is a great way to solve this issue.
Your home addition may be as small as a pantry or walk-in closet in a respective room, but it could be as big as an attached garage. You could want the garage for your vehicles or personal belongings. It doesn't matter as it would serve as a great place to store whatever you may need.
Work-Life Balance
Since 2020, working from home has increasingly grown in popularity among companies and employees. Having a dedicated space to do your work at home is essential for a healthy work-life balance. If you don't have a spare room or garage to convert into your home office, consider a home addition.
Adding a home office can be extremely affordable as they don't require a lot of square footage. On average, home offices range from 50 to 200 square feet. Of course, you can go below or above this range to meet your specific needs. Just know home additions are perfect for meeting many different needs.
Design Problems
Poorly designed homes are littered across the country. The design problems could originate from the decade they were derived, poor planning, a bad DIY job, or a number of other reasons. If multiple areas of your home suffer from design problems, a complete home remodeling project is more suitable. 
However, if a single room is hindered by a design flaw, a home addition project is a great solution. The design problem could be associated with the size of the dining room or a poorly located bathroom. Change up your home's floor plan by seeking a home addition. It can solve these issues and many others.
Add New Qualities
Finally, a common reason to seek the possibility of a home addition is to turn your existing home into the home you've always wanted. Is it missing a sunroom? Do you want to extend your master bathroom for a jacuzzi tub and walk-in shower? Would you like to add a sizeable dining room?
These qualities require space which a home addition provides. You shouldn't have to move to find the qualities you've always wanted in a home. Instead, save time and money by transforming your existing home to add those qualities you've longed for.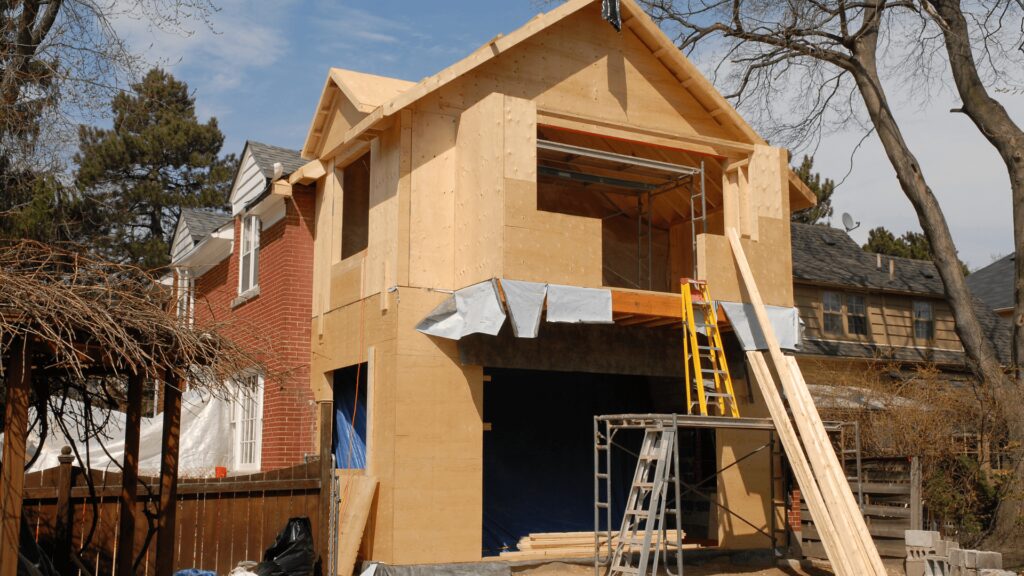 Types of Home Additions
There are numerous types of home additions that could be right for the problem you're trying to solve. Not every type of addition is suitable for your situation, but you've likely not thought of all your options.
Before you even choose the type of home addition for your situation, make sure you consult multiple contractors first. They'll be able to help you determine what is right for your problem and plan it accordingly.
Consult your contractor on the following types of home additions:
Room conversion

Bump-out addition

Room addition

Second-story addition

Second-story garage addition

Sunroom or enclosed porch

Accessory dwelling unit (ADU)
Room Conversion
Converting a room doesn't necessarily add square footage to your home, but it does turn an existing room into one you need. The most commonly converted rooms are basements, attics, and garages. Changing the purpose of these spaces is much more affordable than building up or out. The foundation and walls are already built, so it helps cut down on expenses.
If your basement floods regularly or your attic isn't built to be converted, this type of home addition may not be right for you. Those that don't use the garage much may benefit from this idea, especially if it's attached. Of course, if you require it for storage, you may want to look at other options.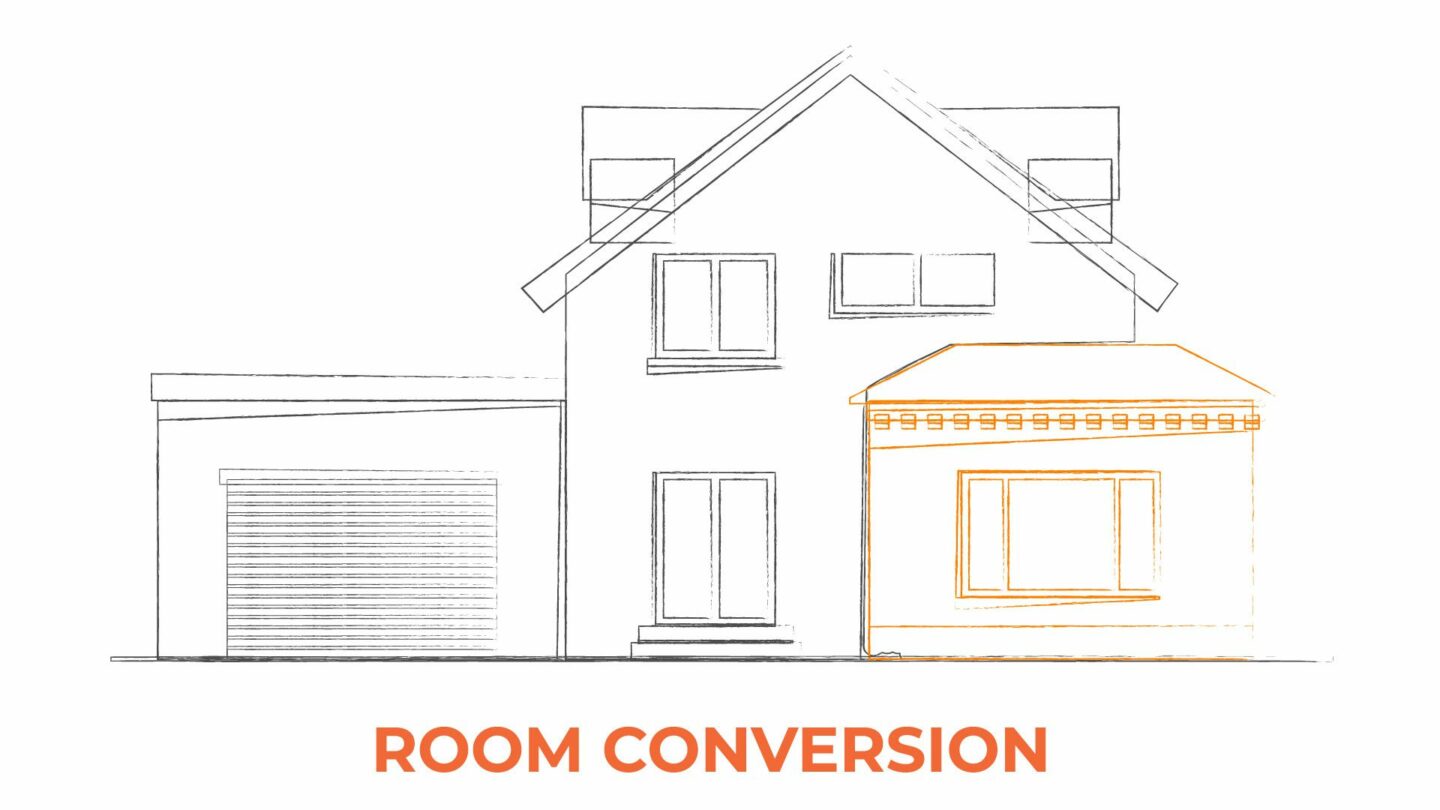 Bump-Out Addition
A bump-out addition, also known as a mico-addition is essentially a small extension of a single room in your home. They often don't need foundation or roof extension work. Instead, they are often cantilevered by the existing foundation and the roofline sits lower than the rest of the homes.
Bump-outs are much more affordable than a traditional room addition because they use fewer materials. If your micro-addition doesn't require foundation or roof work, your costs will be much smaller than expected.
While bump-outs only add a few square feet to your home, this extension can do wonders for a space like your kitchen, bedroom, or bathroom. These types of additions are suitable for sunrooms, enclosed porches, or second stories wanting an overlook.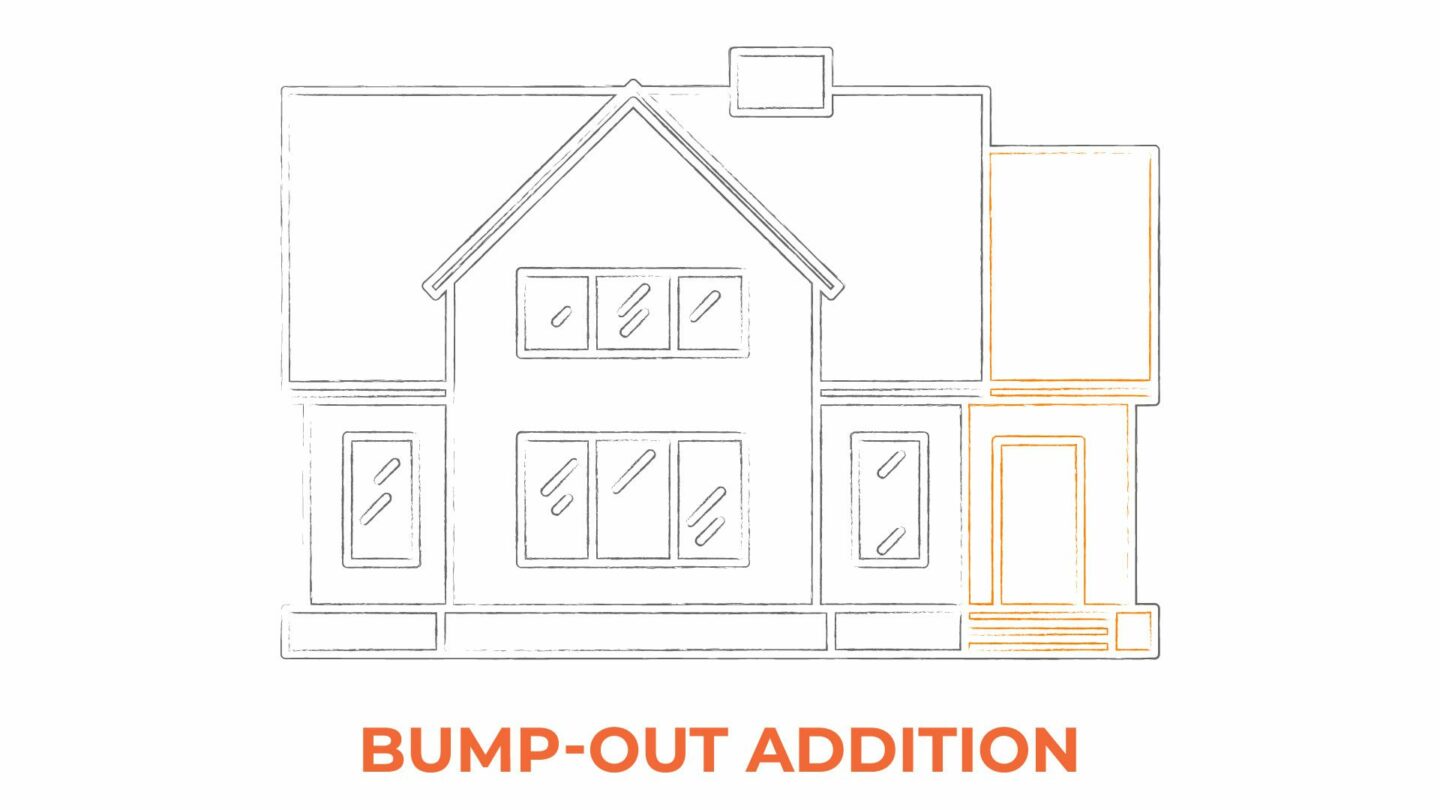 Room Addition
The conventional home addition or what everyone thinks of when they hear the word is what is known as a room addition. It's the act of adding a new room to your home. In some cases, you may add multiple rooms. Room additions typically solve problems for growing families as it's perfect for adding another bedroom or bathroom to your house. It can be used for other types of rooms as well.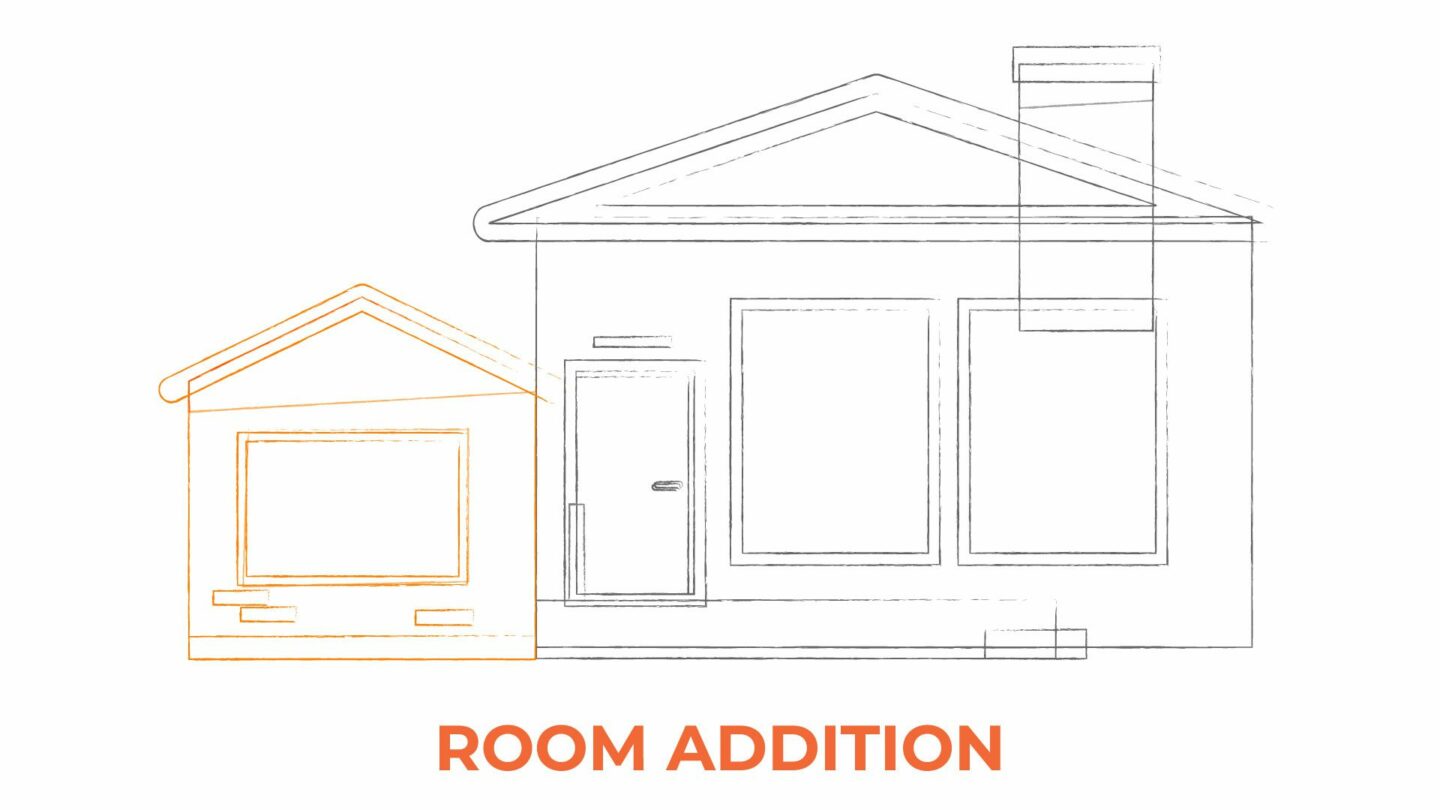 Second-Story Addition
You may not have room to build outward so consider building upward. A second-story addition is perfect for tighter neighborhoods where homes may not have a lot of space on either side.
The cost to build a second story can be high, but it doesn't have to be a full second-story addition. Partial second-story additions are also great options as they reduce costs yet still add the space you need.
There is a lot to consider when adding a second story to your house, such as costs, zoning laws, your current home's floorplan, and more. Consult your local contractors to learn more about the laws in your area and how your specific home might adapt to a second story. Proper planning and design are essential for this type of home addition.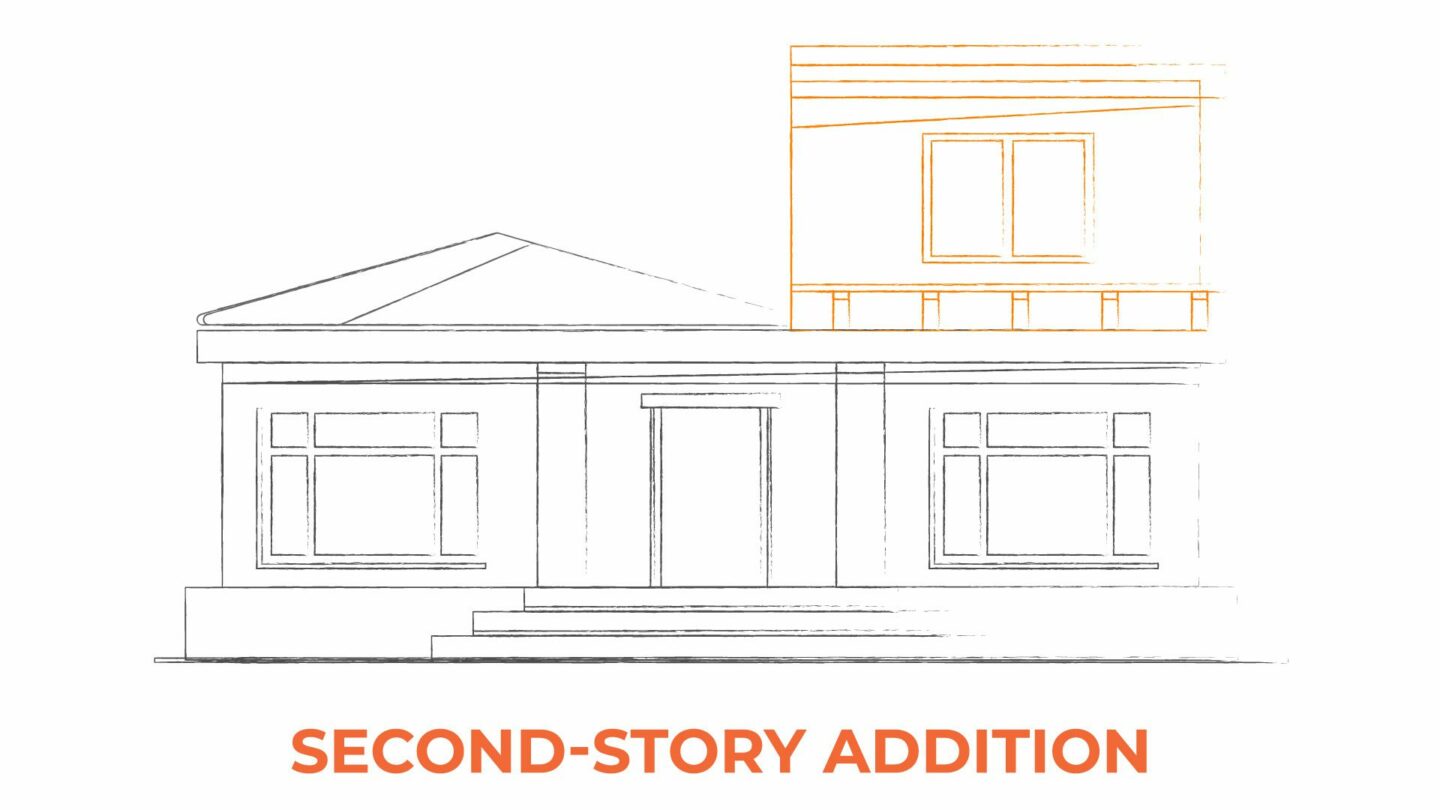 Second-Story Garage Addition
Maybe your home already has a second story and no room to build outward. Well, do you have a garage? Build a room or even an ADU over your garage. You could turn it into your home office, a bedroom, an art studio, or a guest room.
The only downside to building a second-story to your garage is it's not always viable. Some garages are not structurally capable of a second story. This is more true with detached garages. In some cases, it's cheaper to demolish the detached garage and build the addition you need. For these reasons, you should consult a contractor before moving forward.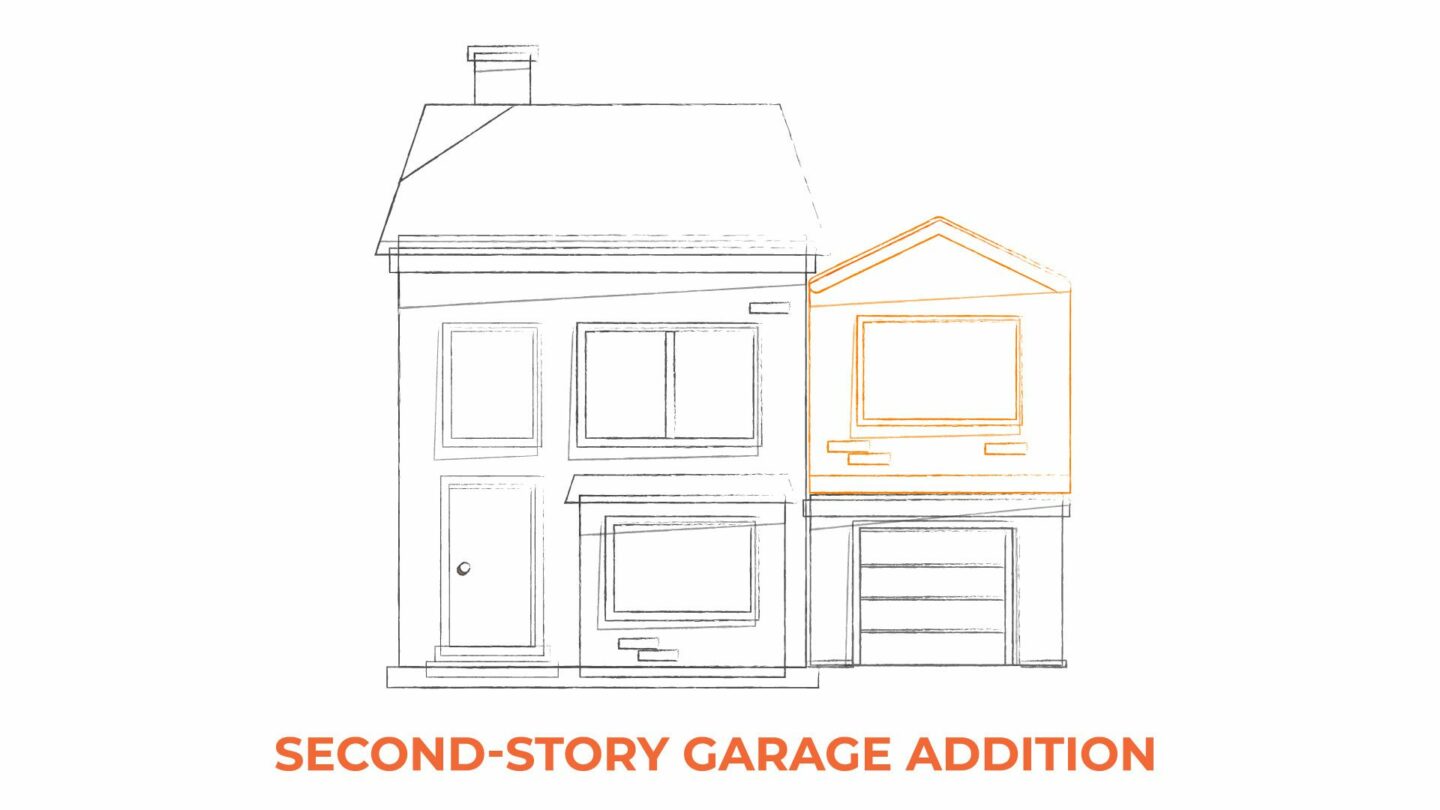 Sunroom or Enclosed Porch
If you want to extend your home's living space without spending a lot on materials, a sunroom or enclosed porch can be a great route. Sunrooms or enclosed porches can be built to be used all year round.
These types of rooms are also known as season rooms. Many of them feature HVAC and electrical systems for you to utilize AC and heating throughout the year. That said, these features raise the cost of your addition, so make sure you budget appropriately.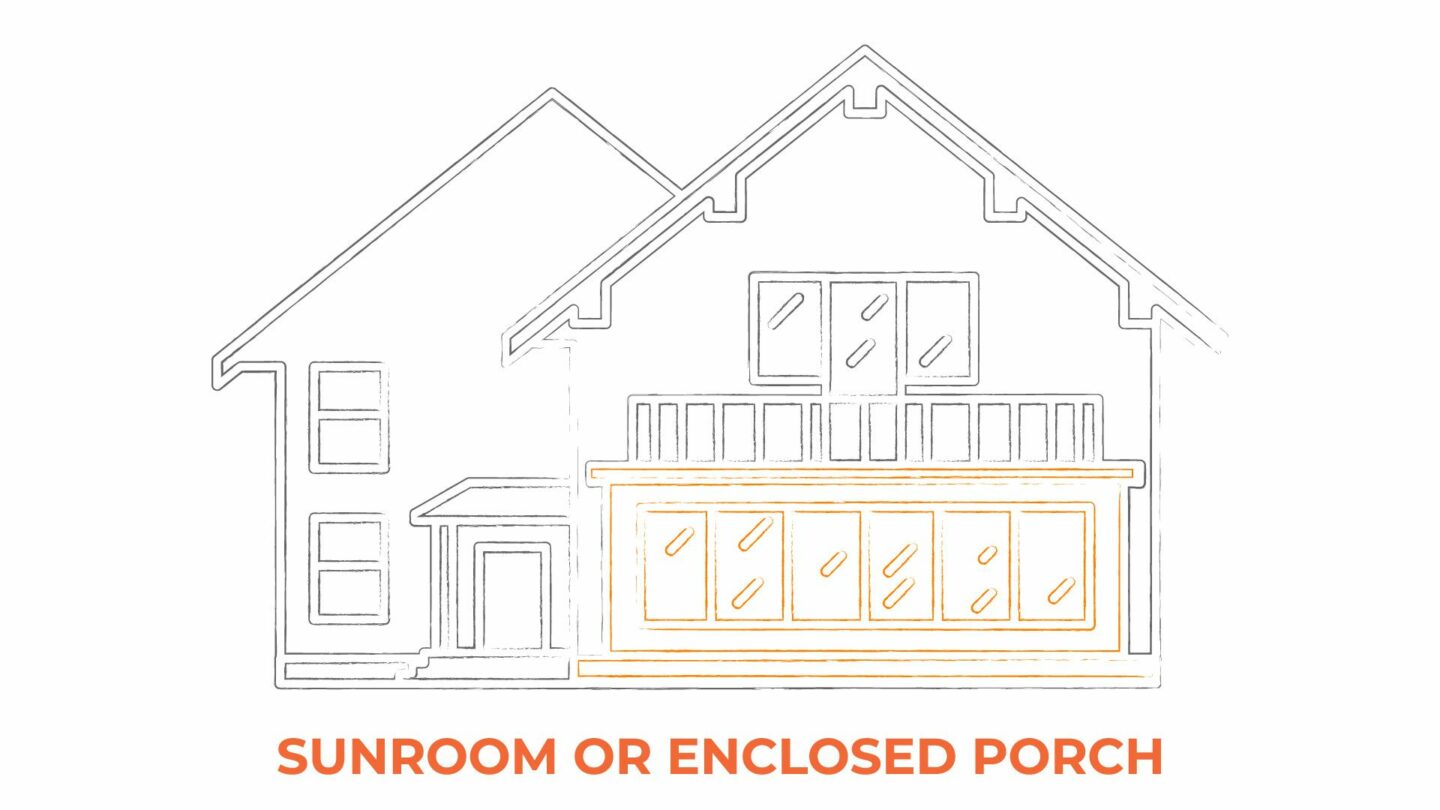 Accessory Dwelling Unit (ADU)
The last type of home addition you could consider for your home is an accessory dwelling unit or ADU. ADUs are known as secondary living structures on a single-family lot. They may be inside the primary structure, attached, or detached.
They have boomed in the past few decades where housing has surged in prices. California, Oregon, and Washington are areas in which ADUs are heavily prevalent. An accessory dwelling unit has everything a home might (bedroom, bathroom, kitchen, etc.) but has limits on the size it can be.
There are many ways of adding an ADU to your property, but you should consult your local municipality regulations regarding secondary dwellings on single-family lots. You can also consult your local contractors for those details as they should be knowledgeable about regulations regarding ADUs.
Find out more by visiting our complete guide to ADUs in California here.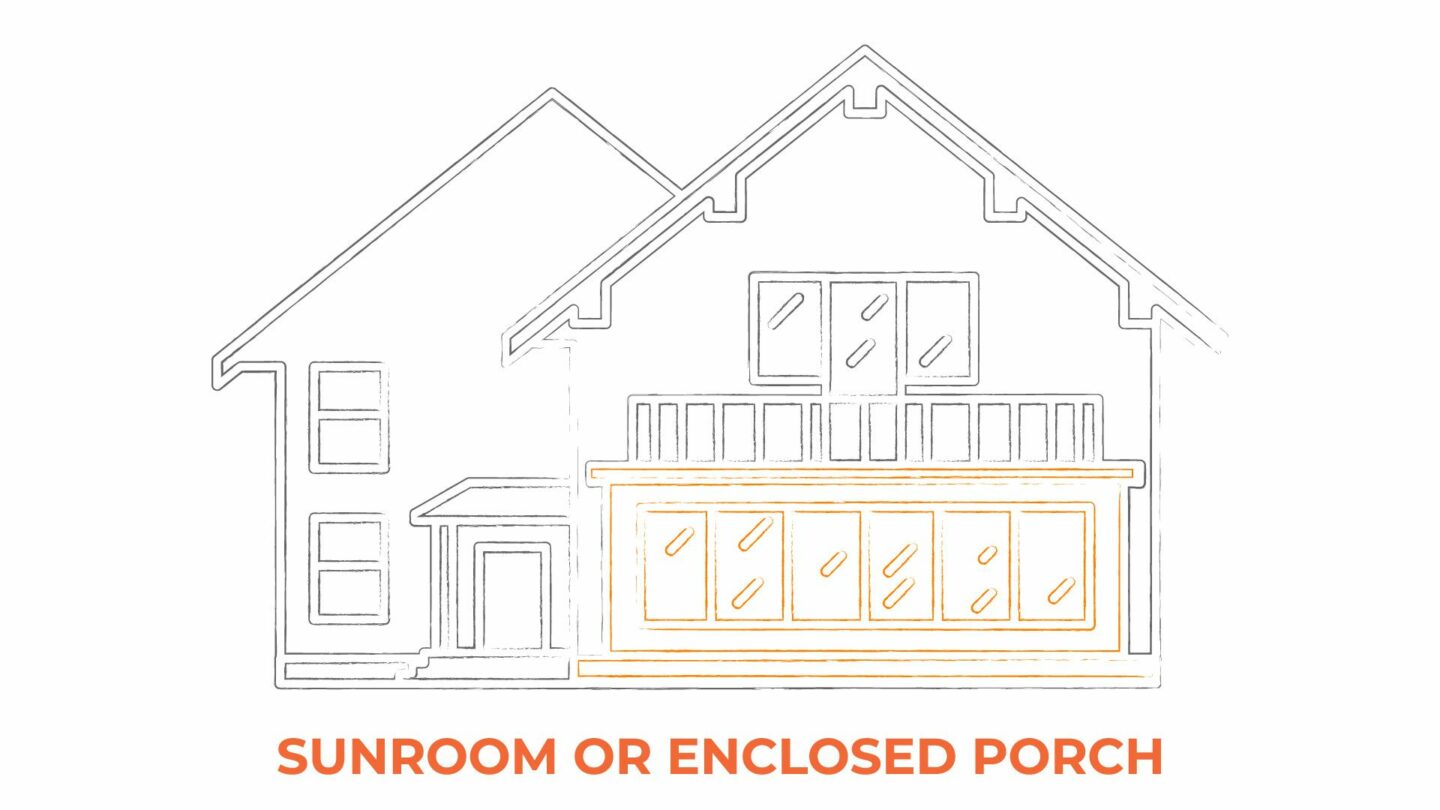 How to Plan for a Home Addition
Like any home remodeling or improvement project, planning is a must. As serious as a home addition is, it's critical you do plenty of research regarding local zoning laws, contractors, budgeting, materials, design ideas, and more. All of these qualities will play a role in how your home addition goes, so be prepared.
In this guide, we walk you through a handful of qualities you must plan for before your home remodeling project can start. Here is how you can plan your home addition moving forward:
Zoning Regulations
Zoning laws or regulations dictate how property is used in residential and commercial areas. Not all properties are under zoning laws, but those that are must abide by them which is important when building onto your home.
The zoning laws in your area will dictate how close you can build to property lines, how high your home can be, where utility lines run, and more. We recommend contacting your local zoning board or department to learn what restrictions (if any) are in place.
Design Ideas
Arguably the most enjoyable part of planning a home addition is collecting ideas. While you don't need ideas before contacting a contractor, it would quicken the design and planning process. A simple collection of images or a Pinterest board are more than perfect for your contractor.
If you don't have any design ideas for your home addition, your contractor will work with you to pin down an idea before developing mockups. They'll work with you to select a style, materials, layout, and many other qualities that go into your addition. They'll never move forward without your approval so don't worry about your contractor moving forward with a design you're on the fence with.
Budgeting
Before you reach out to a contractor, secure your budget and method of how you'll finance that budget. You want to be realistic about your budget since you don't want to go over it or go too low. Approaching a contractor without a budget will severely limit them in what they can assist you with since many of the decisions are up in the air.
A budget allows the contractor to help you select the appropriate materials, square footage, and many other design features. Home additions can be costly projects and many homeowners are unaware of what is required to build them. Make sure you know the realistic budget for the type of home addition you are wanting for your property. The earlier you start this process, the better.
Speak to Contractors
When you've collected your home addition ideas and have secured a budget, you can start contacting contractors. You always want to get multiple estimates from different contractors. Contacting a single contractor for an estimate is one of the most common ways projects are completed poorly.
By getting multiple estimates, you have a better understanding of what your project will cost. Estimates really high or too low should be weeded out as both are signs of problems. Of course, you also want to look at a variety of other qualities the contractor poses, which we'll cover later
Logistics During Construction
Make sure you're ready for the construction of your home addition. Many homeowners are able to stay during the build, but sometimes moving out temporarily is a more stress-free option. Regardless, you need to be ready for what is to come. This involves:
Pack away belongings that may be in the area of construction or for moving out temporarily

Make sure everyone in the household knows the schedule of the project

Plan for pets and children by keeping them away from the construction area

Consider informing the neighbors of the construction and estimated timeline

Plan out meals in the event your kitchen won't be accessible or to reduce stress throughout the week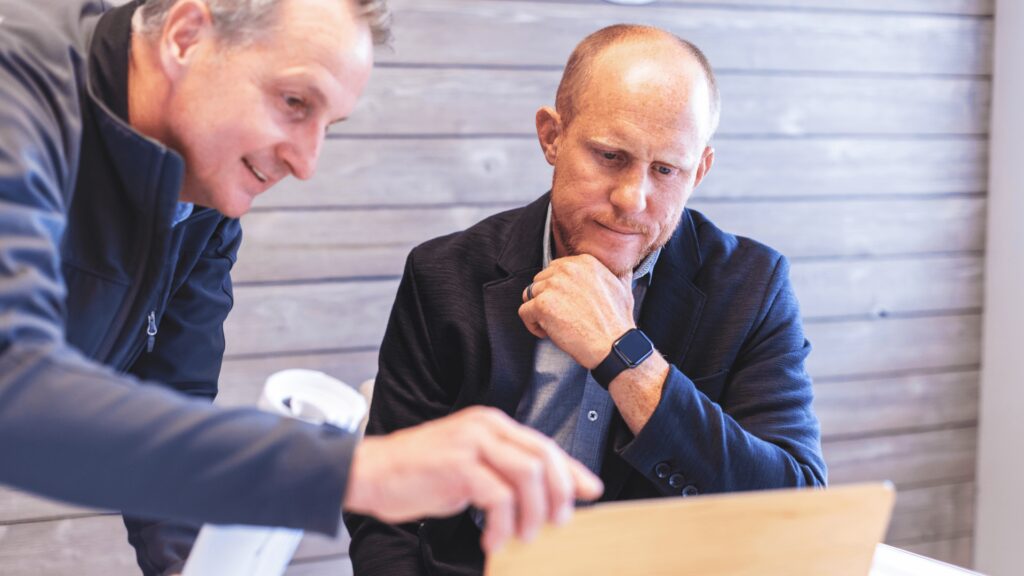 How to Choose a Home Addition Contractor
Choosing the right contractor for your home addition is essential if you want the best results possible. Not all contractors are suitable for your project, which is why you must reach out to multiple contractors for estimates. There is more than the estimate you must consider, however.
The qualities to consider when vetting contractors include:
Qualifications

Recommendations and reviews

Portfolio

References
Let's go into more detail as to why these qualities in a contractor matter for your project.
Qualifications
The basic qualifications every contractor should have is a business license and insurance. Depending on where you live, they may also be required by the state or city to have a contractor's license. Make sure you know your state and local regulations to determine if you should ask for this information.
If a contractor is ever hesitant to provide copies of their qualifications, it likely means they aren't qualified. In regulated states, contractor licenses are public so you should be able to find them in the system using their license number or the name of the company. It will give you details such as when it expires and when it was obtained or renewed.
For areas in which contractors are not regulated, consider asking if they are associated with organizations such as Associated Builders and Contractors (ABC), Associated General Contractors of America (AGC), or International Association of Professional Contractors. Being a member of any of these organizations will further strengthen their qualifications.
Recommendations and Reviews
One of the best ways to learn what contractors to contact is through recommendations. Ask your family and friends for the contact information of the contractor they used for their home addition or remodeling project. Remember, they shouldn't be the only contractor you contact.
Another way of finding a suitable contractor is through online reviews. Take a look at what their reviews say on Google, Yelp, HomeAdvisor, Angie, or Thumbtack. Read good and bad reviews to understand what people love and disliked during the project.
Portfolio
A picture is worth a thousand words, especially when it comes to choosing a contractor. Most contractors feature past work on their website, but if they don't then ask them to provide you with samples. If none are given, avoid them. Ask them if they have any projects related to your home addition, that way you can see what kind of home addition projects they are capable of completing.
References
To really understand what others think of the contractor you're considering, speak to their list of references. Every contractor should have a list of past clients willing to talk to prospective clients. They'll likely have their contact information for you to reach out. 
You should ask them questions regarding the project and their relationship with the contractor. If you aren't sure where to start, consider asking these:
What type of project did the contractor complete for you?

Were you satisfied with the work that was done? If not, why?

Would you hire this contractor again? If not, why?

Were there any delays during the project?

Was the job site kept clean and tidy throughout the project?

Did the contractor stay on budget?

What did you like the least about working with the contractor?

Was the contractor communicative?
These questions will help you understand how the contractor works with clients and if they are a good fit for your project.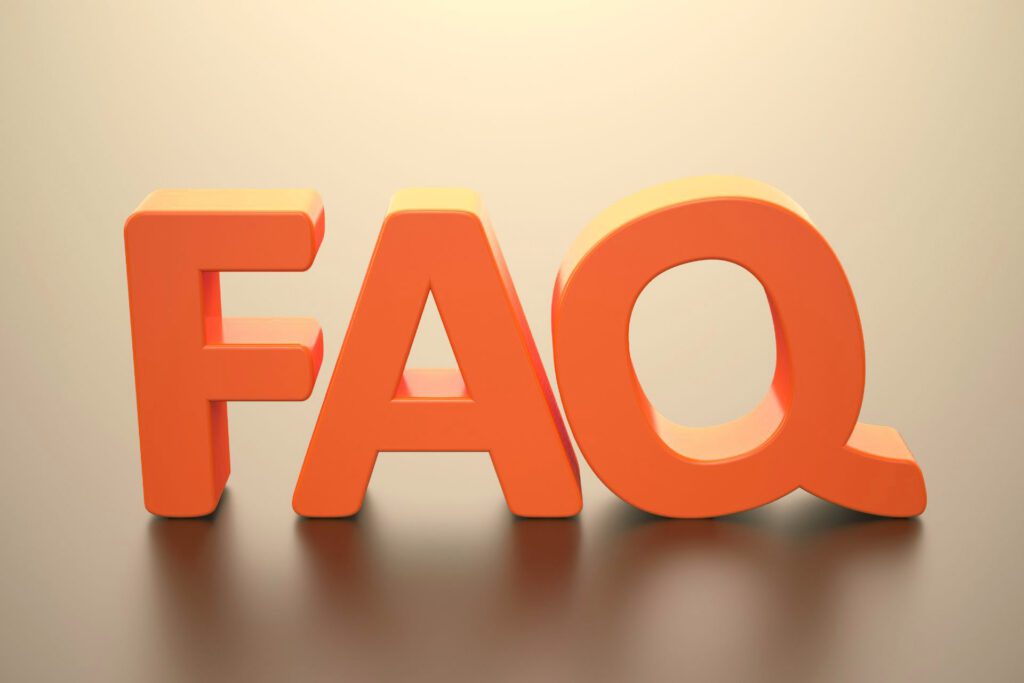 Frequently Asked Questions
1. How much does a home addition cost?
According to Angi, the average cost of a home addition can cost anywhere from $80 to $300 per square foot. There are many factors that contribute to the cost of a home addition, such as type of addition, materials, are you live, the contractor, and more. Always consult multiple contractors for an estimate you're comfortable with and is able to provide you with what you want.
2. How do I finance a home addition?
There are several methods you can use to finance your home addition. Those include:
Home equity line of credit

Home equity loan

Personal loan

Cash-out refinance

Personal line of credit

Credit card

Cash
We recommend consulting your contractor and bank for any financing options they may make available to you.
3. Can you put an addition on a modular home?
Yes! Modular homes or trailers can be added to like traditional houses. Find the right contractor to make sure your project is handled correctly.
4. How long do home additions take to build?
It takes about two to four months to build a home addition. Certain factors will affect that time such as the square footage being and potential delays. Some types of projects are not as long as a bump-out addition but other additions may take longer such as a full second-story addition. It all comes down to the scope of your project so consult your contractor to learn more.
5. Will I need a building permit for a home addition?
Yes. Home additions almost always require a building permit no matter where you live. Projects dealing with structural, electrical, or plumbing changes will need a building permit.
6. How much value does a home addition add to a home?
It greatly depends on the type of home addition and the quality of materials and workmanship. To get an idea of how much return you can expect, check out the Cost vs. Value report.