Kitchen Remodel Dublin CA
One of the easiest yet most prominent ways to spruce up your home in Dublin is kitchen remodeling services. Whether you want to change the flooring and countertops or incorporate an entirely new kitchen design, our team of remodeling contractors can take care of all aspects of the job in the most time- and cost-efficient manner. So get ready to become the talk of your neighborhood with our efficient and reliable Dublin kitchen remodeling services.
Our Dublin Kitchen Remodeling Process
From changing the flooring, drywall, and plumbing/electrical systems to installing new fixtures, lighting, and ventilation, we can take care of all your needs and preferences through our Dublin kitchen remodeling. Our team of experts is highly experienced, trained, and licensed to provide the best home remodeling services in your town! With our team by your side, you will not have to worry about hiring several contractors because we will care for every inch or corner of your kitchen. Here's what our kitchen remodeling process looks like:
Free estimates after evaluation of needs.
Meeting with the project manager.
Demolishing the old kitchen.
Installing new electrical, plumbing, and lighting.
Closing walls and installing countertops.
Applying backsplash and installing new appliances.
Finalizing touchups and walkthrough.
Benefits of a New Kitchen Design
Our Dublin kitchen remodeling comes with several benefits, including increased property value and curb appeal. You can also enjoy a safe and hassle-free process with our team of expert remodeling contractors. Additionally, even basic kitchen remodeling services can bring you approximately 54% ROI. This means that you can receive more than half of what you invested when you sell your home to a buyer.
If this is your first time remodeling a portion of your home, you'll be surprised by the increased storage space and efficiency after our Dublin kitchen remodeling. We will present kitchen design ideas that will help you declutter your space and keep it that way for the years to come. Your new kitchen will increase your comfort level and incorporate as many energy-efficient elements as it can.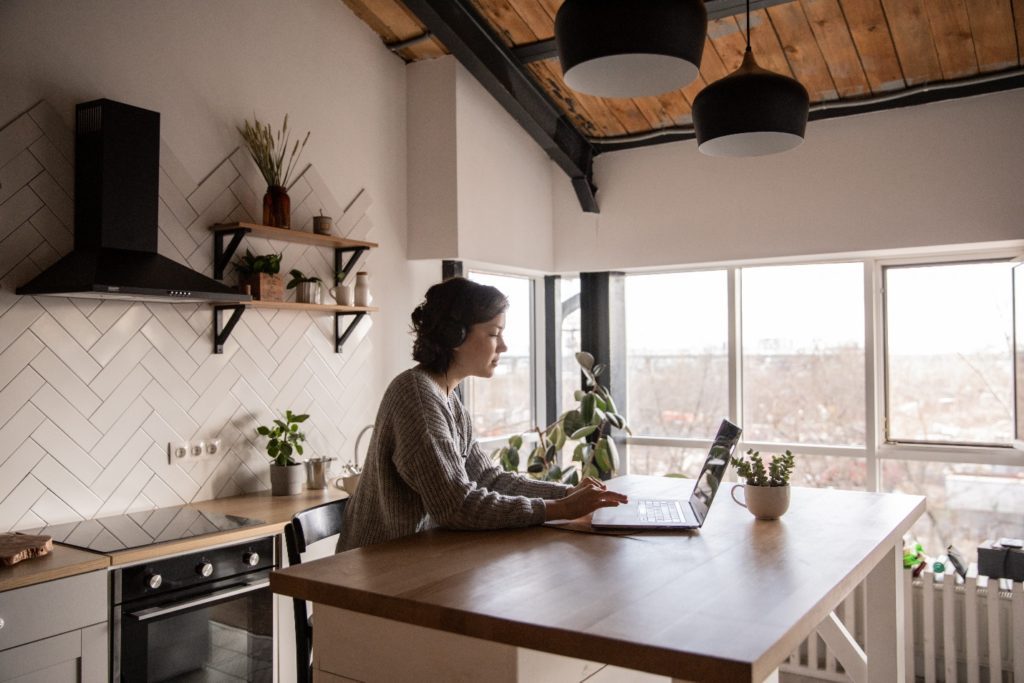 Additionally, you can save future repair and maintenance costs with our new durable and sustainable materials. If you want to enjoy all of these benefits and more, get in touch with our team now!
Dublin Kitchen Remodeling Costs
Our Dublin kitchen remodeling costs depend on the total surface area to be covered, the materials used, and the tools and equipment required to complete the job. If you want to get an idea of the total costs of the kitchen remodeling process, we can offer you a free estimate. Our team will evaluate your current kitchen and your required changes and preferences before sending you a quote. You can also communicate your total budget to us, and we can create a new kitchen design based on that.
Kitchen Design Ideas
A great kitchen design should match your home's overall interior design and aesthetics. For example, if you have a contemporary home, you can look for modern design options to match your house's style. However, if you own a Victorian-style home, you may need to look for more traditional designs for your new kitchen. The following are some kitchen layout options for you to consider:
Galley kitchen
Horseshoe kitchen
L-shaped kitchen
Peninsula kitchen
U-shaped kitchen
Island kitchen
Let Us Beautify Your Home!
Are you interested in our Dublin kitchen remodeling services? Give us a call on (415) 650-2586 now! We also offer the most efficient, reliable, and affordable complete home remodeling services in Greater San Jose. So get in touch with us now to reclaim your space and enhance your home's look.