Milpitas Kitchen Remodeling
Milpitas Kitchen Remodeling
Are you tired of bumping into your cabinets, appliances, and other people in your kitchen? A poor kitchen design can mean cluttered spaces and inefficient lighting or ventilation systems. As kitchens are one of the most important rooms for any homeowner, the kitchen design should reflect its importance and increase its overall functionality. If you're a homeowner looking for ways to improve and enhance your kitchen's structure, we can help you. Our expert remodeling contractors have sufficient knowledge and tools to provide the best Milpitas Kitchen Remodeling options, specifically tailored to your needs.
Milpitas Kitchen Remodeling Services
Our Milpitas Kitchen Remodeling services include all aspects of the remodeling project, including utility lines repairs and appliance installations. With our vast experience in the field and unmatched market knowledge, we can guarantee 100% satisfaction for all homeowners in California. Let us know which design elements and features you want us to incorporate, and our team of project managers and field workers will take care of the rest. Our kitchen remodeling services include the following:
Evaluating current kitchen designand structure.
Adhering to all local building policies.
Creating a new kitchen designand layout.
Shopping for materials, tools, and equipment.
Demolishing the old kitchen and disposing of materials.
Fixing all underlying problems, including utility lines.
Finishing and repainting drywalls.
Installing doors and windows, if required.
Adding new cabinetry, countertops, and backsplash.
Replacing lighting, ventilation system, and other fixtures.
Installing new appliances in the kitchen.
Installing new flooring.
Final touches, cleaning, and walkthrough.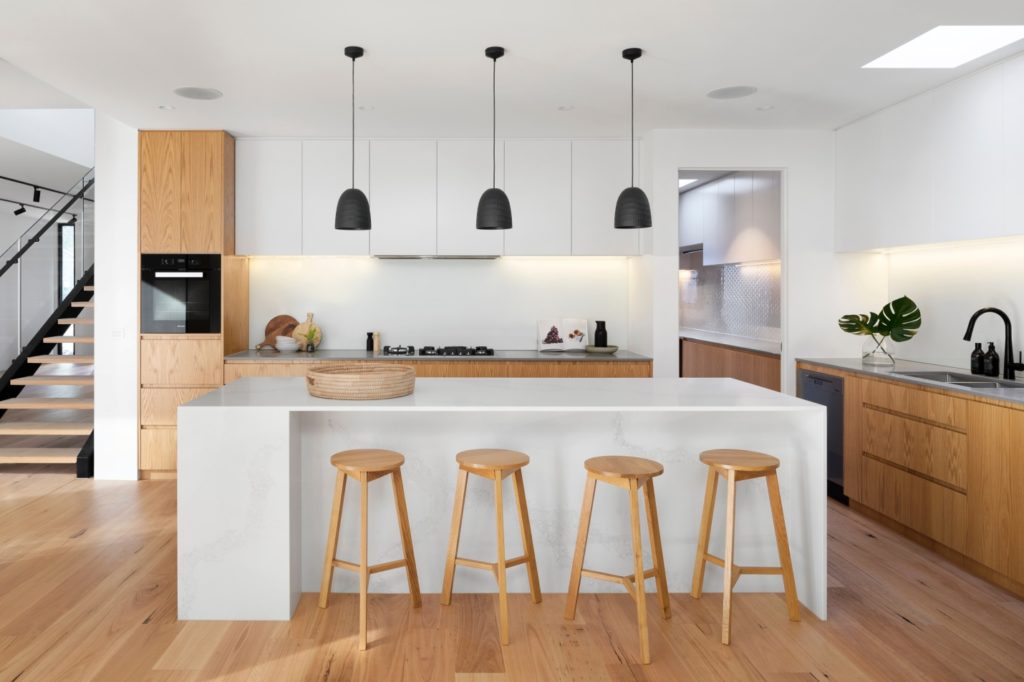 Kitchen Remodeling Costs and Timelines
The cost of our kitchen remodeling services vary, depending on the type of upgrades you want, the quality of the materials installed, and the size of the kitchen. The estimated completion time also varies according to these factors. However, a complete kitchen remodeling with new flooring and appliances can take 10 to 12 weeks. If you want to know a close-to-accurate estimate for the Milpitas Kitchen Remodeling costs and timeline, you can get in touch with our team now. We offer a free estimate on all our home remodeling services in Milpitas and its nearby communities.
A Safe Space to Enjoy Cooking with Family and Friends
Cooking meals with your loved ones has been a cherished tradition in America. However, most kitchens are either too crowded or too inefficient to support families and friends who love cooking together as a team. Don't let your kitchen design and space ruin a perfect family tradition; let us help you enhance and declutter your space in the most time and cost-efficient way possible. You can enjoy the following perks with our Milpitas Kitchen Remodeling:
Save future repair and reinstallation costs.
Declutter your kitchen with increased storage space.
Increase your home's value and curb appeal.
Increase efficiency and functionality.
Make your kitchen safer and more energy-efficient.
Incorporate your design and style preferences.
Other Home Remodeling Options
DreamHome Remodeling and Builders also offers other home remodeling services in the area, including bathroom remodeling, complete interior remodeling, exterior remodeling, and even home additions. Our team of experts is highly experienced and trained to handle all aspects of the job, so you don't have to hire multiple teams for a single project. You can also give us a call for fireplace installation, accessory dwelling units, and new construction home projects. If you're on the lookout for the best remodeling services in your area, we are your best bet!
Contact Our Team Now!
What are you waiting for? Contact our team and book Milpitas Kitchen Remodeling services now and avail a free estimate on our services. You can reach us at (415) 650-2586 any day of the week between 8 am and 8 pm. We can't wait to hear from you!