Newark Home Remodeling
DreamHome Remodeling & Builders is a full-service residential and commercial remodeling and construction company operating in the San Jose Bay area. Our Newark home remodeling contractors are regarded as the most trusted and experienced craftsmen in town. Having been in the field for over a decade, we have handled all kinds of small- and large-scale remodeling projects. So whether it's a small bathroom remodeling project or an entire room addition project, you can trust us to carry it out effectively, professionally, and without delay!
Home Remodeling Services
DreamHome Remodeling & Builders offers the following Newark home remodeling services:
ADU (Accessory Dwelling Unit)
Bathroom remodeling
Exterior walls construction
Fireplace installation
Home additions
Home remodeling
Kitchen remodeling
New construction homes
Most of the clients in Newark hire us for their bathroom remodeling projects. A bathroom remodel can uplift your boring bathroom into a rejuvenating modern space. Our bathroom remodeling services are specially designed to offer the comfort and peace of mind that comes with beautiful bathroom space.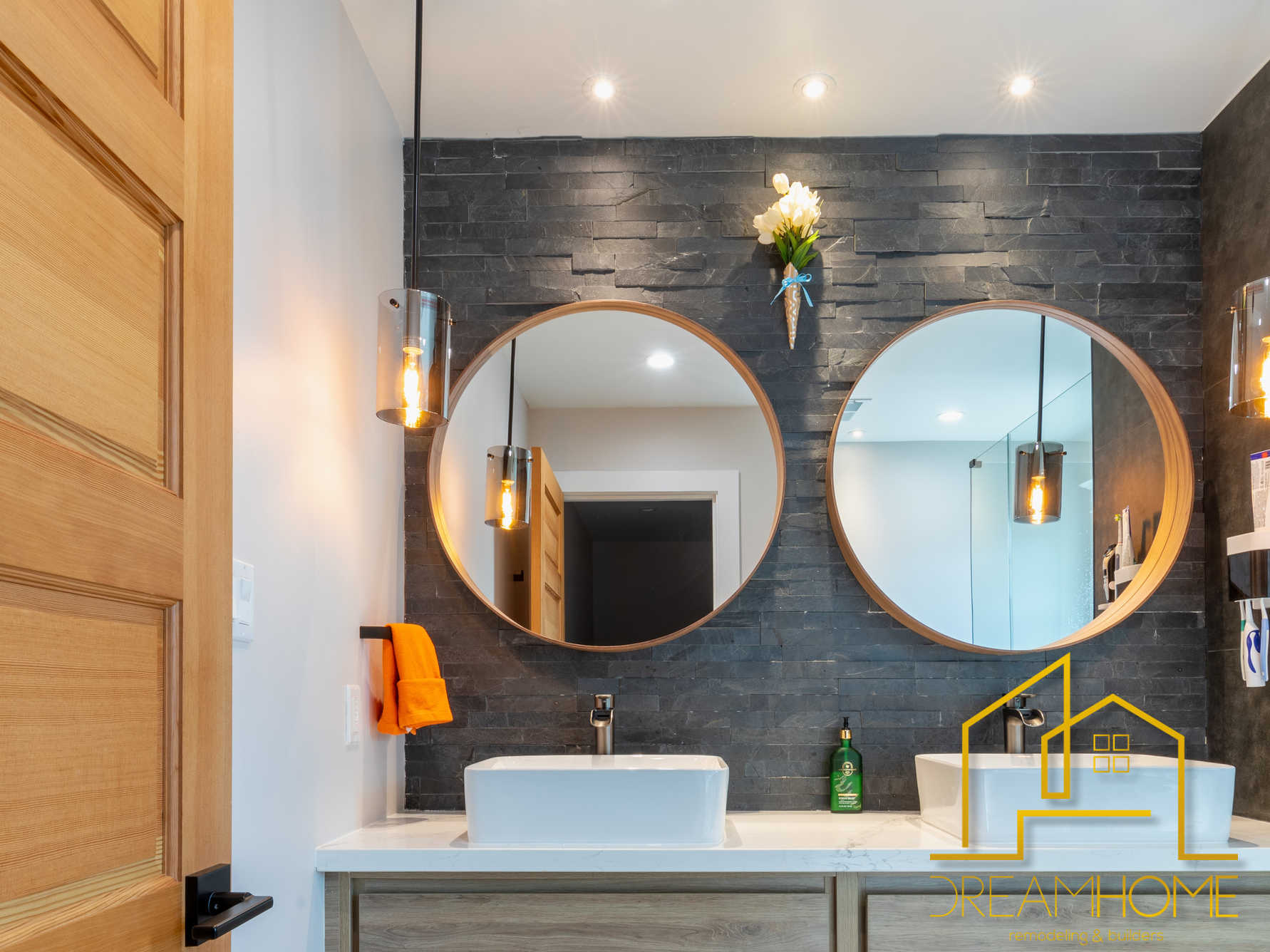 Newark Bathroom Remodeling Services
Here's how our bathroom remodeling contractors in Newark carry out their projects to create a well-lit, breathable, and spacious bathroom.
Windows
Windows in the bathroom are a must not only to get rid of the humidity but also to fill your space with natural light. A humid bathroom is a breeding ground for mold and mildew that leave ugly stains all over your place. While a bathroom fan will do the trick, a window is the best ventilation you can get for both a humidity-free and a well-lit bathroom. You won't have to turn on too many lights during the day when there is a lot of natural light coming in.
Improved Lighting
The most important aspect for any bathroom after its ventilation is lighting. The lighting around us seriously affects our moods. Therefore, our bathroom remodeling contractors make sure to add ample lighting in the bathrooms so that your space feels open and bigger and also so that you can be relaxed in a dim-lit bathroom.
Mirrors
Mirrors are also a vital element in any bathroom. Our bathroom remodeling contractors make sure to install mirrors in your bathrooms, be it a vanity mirror or an entire wall of mirrors. Not only do they help make the space look bigger, but they also help you while you are doing makeup, shaving, applying skincare, or haircare products.
Tiles
Our bathroom remodeling contractors make sure to choose the right-colored tiles for your bathroom according to its layout and space. We use textured tiles that are uniform and is small in size to complement the space in your bathroom. It's important to choose textured tiles in the bathroom as they keep your feet from slipping post-shower.
A remodeled bathroom not only increases the value of your house but also upgrades its style and functionality. It adapts to your family's modern needs of a relaxing and rejuvenating bathroom. So if you are planning a resale of your house or just want to upgrade the appearance and functionality of your bathroom, you will need Newark home remodeling services.
Our Newark bathroom remodeling contractors can bring all your pinned Pinterest bathroom ideas to life! So call us now for a free estimate.
Call Us Now!
At DreamHome Remodeling & Builders, we offer all kinds of home remodeling services. Call us at (408) 539-2340 to reach out to our Newark home remodeling contractors and schedule a free estimate. Our team will go over your remodeling plans with you and give you a free estimate for the services required. No strings attached!