San Jose Kitchen Remodeling
San Jose Kitchen Remodeling
Kitchens are considered the most important space in any home. It is the hub of the home where friends and family gather to eat and share stories. Kitchens used to be closed-off spaces in the past, but now more people are opting for open kitchens where they can prepare meals and utilize the space as a dining area and a socializing space to be shared by all family members.
Call DreamHome Remodeling & Builders today at (415) 650-2586 to request a free quote for the complete renovation of your kitchen.
With our contractors' years of experience in San Jose, our forte is remodeling and designing a diverse range of kitchen plans for various families. DreamHome Remodeling & Builders are experts at designing a kitchen fit for you and your family's needs. We are committed to bringing our years of experience as contractors in the San Jose area to provide our clients with top renovation services to achieve complete customer satisfaction.
Which Kitchen Features Should You Have Remodeled
When designing a spectacular yet functional kitchen, open spaces, plenty of natural light, and efficient ventilation are key factors to consider. Some newly revamped kitchens might look breathtaking, but these elegant kitchens fail the test for functionality. DreamHome Remodeling & Builders uses innovative and fresh designs executed with top-quality tech to provide our customers with a kitchen that not only looks spectacular but can be utilized just as well.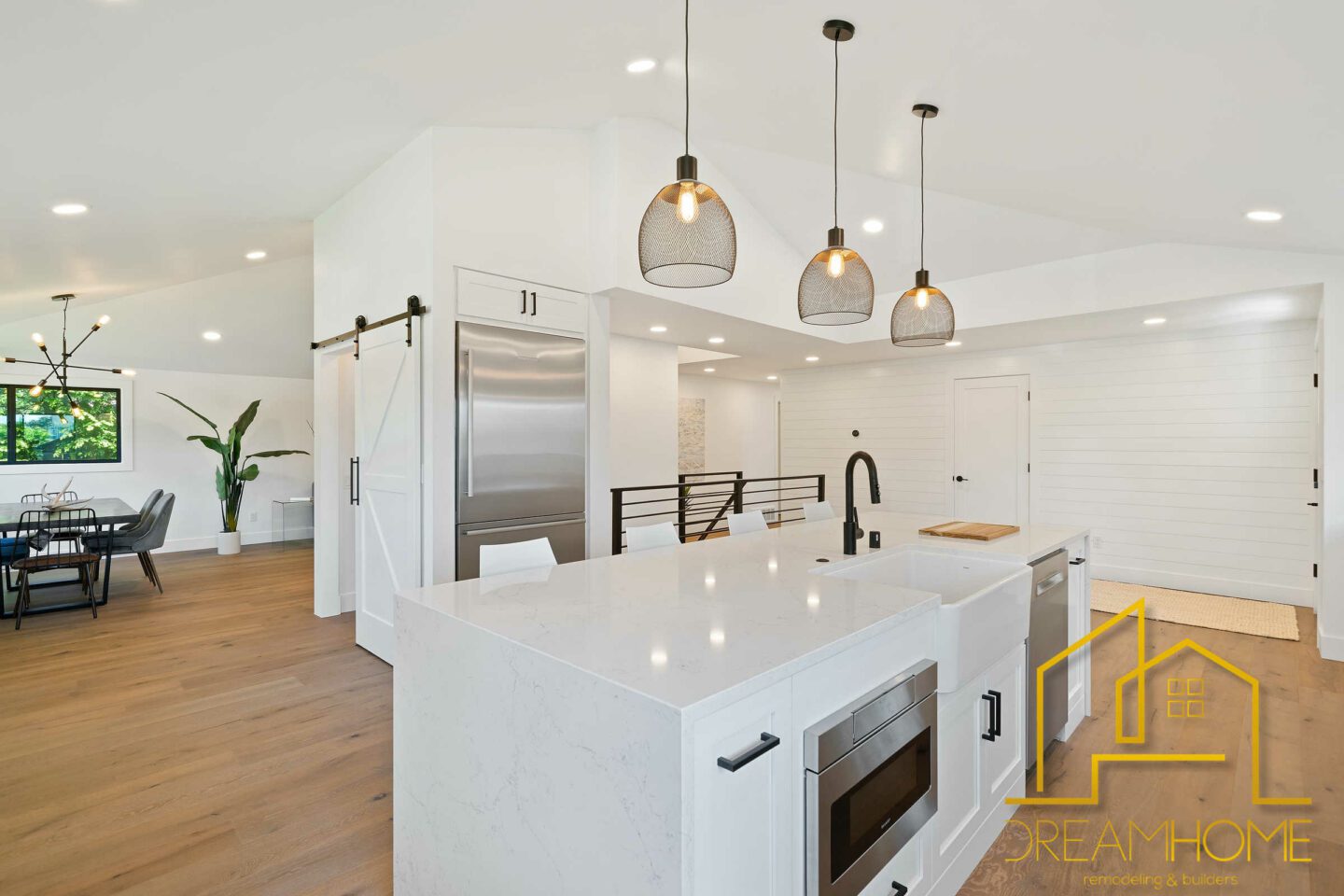 After conducting a detailed inspection of the structure and layout of your current kitchen, our contractors will provide you with a new kitchen design according to your goals for the project. Our San Jose remodeling services not only involve basic remodeling services such as demolition and installing new countertops and cabinets but can also include appliance installation (refrigerators, wine chillers, etc.) as well as utility line repairs. To give you a better sense of what would best suit your San Jose kitchen remodeling needs, here is a list of kitchen features we remodel:
Kitchen Cabinets
Utilize your space to the max with sleek drawers and cupboards for your china dishes, silverware, and seasonings.
Storage
Design a pantry for your large kitchen tailored to your needs, or learn how to optimize space in a small kitchen.
Shelving
Organize your wine classes on an open shelf, or save space by using shelves for your plates in the kitchen.
Backsplash
The tiled or marbled backsplash serves as the background of your kitchen and should reflect your personality.
Island
The kitchen island is the center of attention in a kitchen. With the choice between various marbles, veneer, or quartz countertops, select a material that works best with the theme of your kitchen and your sink.
Flooring
With a plethora of options to choose from (hardwood panels, tiles, or attractive vinyl flooring), make an impression with stylish flooring to match your theme.
Painting
A light egg-white shade for your kitchen may make the space seem more open, while darker colors will embolden your kitchen. You can select the best option for you with our designer's recommendation.
Lights and Fixtures
Enhance your kitchen design with lights that brighten up the entire place and elegant fixtures to suit the overall theme.
Contact DreamHome Remodeling & Builders Now!
If you are looking for reliable remodeling services for your kitchen in San Jose, kitchen remodeling projects completed by DreamHome Remodeling & Builders have received rave reviews regarding excellent customer service and exceptional project execution. Feel free to call us today at (415) 650-2586 to ask for a free quote on our kitchen remodeling services and get ready for a magical kitchen transformation!