San Leandro Bathroom Remodeling
Although it may not seem too important, the design and style of your bathroom can affect the ambiance of a space and your mood as well. Most bathrooms can get mold growth due to the moisture in the atmosphere, or the plumbing and tiles might get worn out as the years go by. If your bathroom has any of the problems mentioned above, you may want to consider bathroom remodeling.
With a trusted bathroom remodeling contractor, you can make the upgrade from a shower to a bathtub or have them sketch out plans for you to meet your goals. Whether your goals may be to make more space, make additions so it is safer for children or the elderly, or to give the design and layout a complete make-over, DreamHome Remodeling & Builders can do the job for you.
Want to ask us about our pricing and available design options? Give us a call now at (415) 650-2586 to learn how our San Leandro bathroom remodeling services can help you make the most of your bathroom space.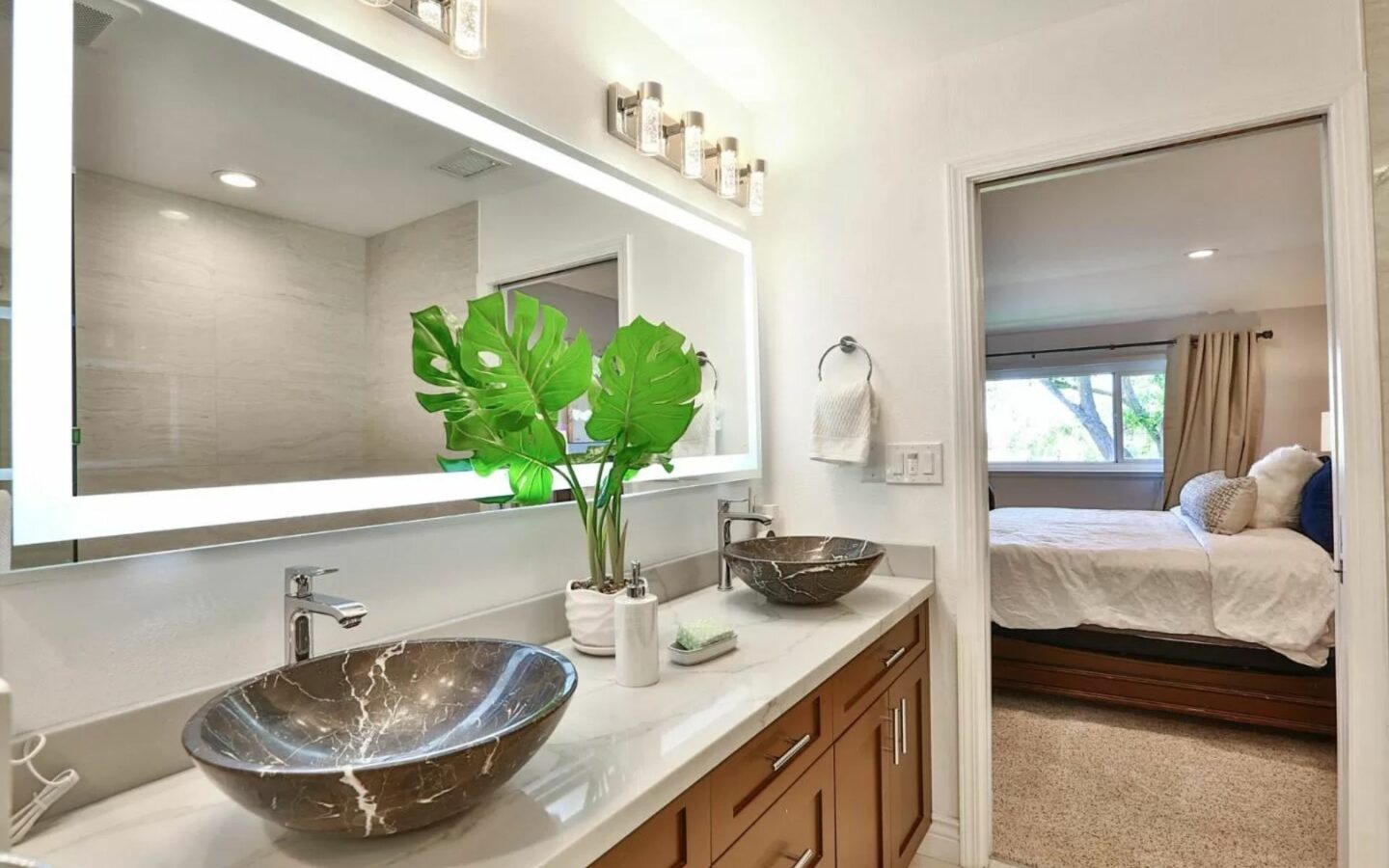 Why Choose DreamHome Remodeling & Builders
Do you want to redo your bathroom but don't know where to find reliable and trustworthy renovation services in San Leandro? Look no further!
DreamHome Remodeling & Builders have years of experience in remodeling all kinds of bathrooms with different styles and sizes. With a range of expert contractors, savvy project managers, and creative designers, we ensure to listen to our clients' goals and design ideas and incorporate their vision into our design plan. Impeccable craftsmanship, superb attention to detail, and high-end materials are DreamHome Remodeling & Builders' trademark.
Client satisfaction is DreamHome Remodeling & Builders' top priority as we aim to achieve your goals for the project. For this, we suggest our clients with a detailed consultation with our contractor and our designer, who, in turn, execute your vision to perfection.
What Does the Bathroom Renovation Process Look Like?
DreamHome Remodeling & Builders focus on making remodeling an easy and stress-free process for the client. You can request a free consultation with our project managers and contractors for a quote, after which we will provide you with the full remodeling plan for your bathroom according to your design ideas and needs.
After you have approved our remodeling plan, our contractors will move on to the demolition phase, where we will take out old faucets, bathtubs, vanities, and more to prepare for new installations. After the deconstruction, we incorporate new plumbing and electrical connections, if need be, and close the walls to prep for installing tiles.
At this stage, we will be installing the flooring or the tiles you choose from a wide selection offered by our designer (classic mosaic, calming marble, and more). The next step is installing exhaust fans, lights, and other fixtures tailored to your theme. Light fixtures add a certain elegance to the bathroom space and give it a more finished look.
Lastly, we will add any required appliances to the bathroom and give the space a thorough clean-up before letting you enjoy your new bathroom in peace.
Contact DreamHome Remodeling & Builders Now!
Still unsure of scheduling our remodeling services for your bathroom? With our San Leandro bathroom remodeling services, you will get reliable and efficient services that can be tailored to any budget or remodeling project.
Give us a call today at (415) 650-2586 to ask for a free consultation with our experienced contractors, and prepare yourself for a mind-blowing bathroom revamp!