They say that the kitchen is the heart of the home. After all, it is the place where most of the magic happens. From daily family gatherings to dinner parties with loved ones, a kitchen always holds immense importance in a house. Given its significance, kitchen flooring requires extensive consideration. Whether you are renovating or building a new home, there is a lot to bear in mind when picking the best kitchen flooring material.
Available Options
Over time, a lot of materials have come up as ideal kitchen flooring materials. These include wood, cork, laminate, vinyl, natural stones, or tiles. Each material has its characteristics. While some are affordable, others offer a more aesthetic appeal. Some flooring options are easy to maintain; others can be a hassle to clean. Here are the most common options and their respective merits and demerits.
Hardwood
The number of options available in wood is elaborate. The colors, designs, and styles in hardwood keep growing every day. Besides the style choices, hardwood is durable and long-lasting. It is maintenance effective, too, with minimal risk of seepage. However, a mess on the floor where cleaning is inappropriate can damage the integrity. Hardwood floors are also prone to squeaks, even when new.
Vinyl
Vinyl is another popular option as the best kitchen flooring option. These flooring materials can give an expensive look without costing a fortune. The water resistance of vinyl is incredible. Installation is also simple and can be a do-it-yourself project. However, vinyl is soft, and dropped objects can cause cracks in them. Moving large appliances over it can also leave dents.
Tile and Natural Stone
Tiles and natural stones like marble or granite are the most common kitchen flooring options worldwide. They are robust and long-lasting. Recently, there's been a diverse range of styles in tile flooring for homeowners. Natural stones have limitations in design choices, but they are still beautiful. These materials are relatively easy to maintain, but the grout used to fill joints can catch spillage and lose coloration over time.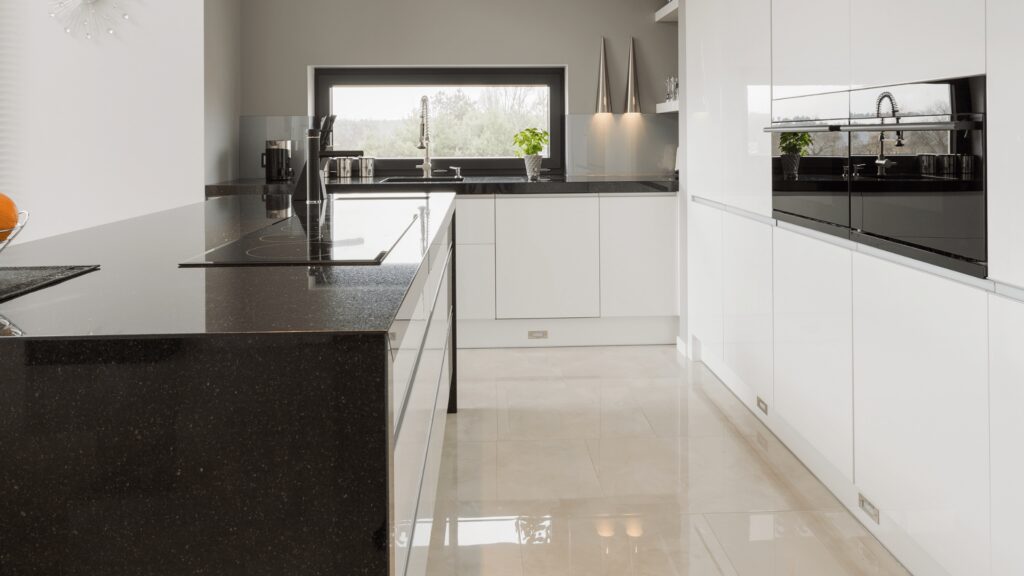 Factors to Consider
When picking the best kitchen flooring, there are some factors to consider. The considerable elements can differ from person to person. For most people, costs and installation are the biggest priorities. For others, maintenance takes precedence. Lastly, some people only want visual appeal and care about nothing else.
Costs
In terms of cost, vinyl is the most affordable. Hardwood comes next, and natural stones are the most expensive. The price of the material alone is not relevant. Underlayment, installation, delivery, and labor costs add to the price of flooring as well. Together, the charges can add up and sometimes go over budget.
Maintenance
Most kitchen flooring options are durable but can be stained over time. Kitchens witness a lot of spillages and messes. When cleaning is not regular, the material left on the floor will seep inside, leaving a permanent spot. The grout between slabs is the biggest concern with tiles and natural stone, but the material itself can become a challenge for wood and vinyl.
Visual Appeal
Almost every material these days has a lot of styling options. Natural stones have limitations because they don't come from artificial sources. For the rest, you can easily find materials that are in sync with the kitchen's overall theme. It is all about personal preferences, but most people prefer hardwood floors in the kitchen due to the rustic look that they offer.
Which Kitchen Flooring is Right for You?
If you still aren't sure what type of flooring is right for your kitchen, give DreamHome Remodeling & Builders a call. You can reach our team by calling us at (408) 539-2502 or visiting our free estimate page. Our general contractors and remodeling experts will help you find the flooring options best suited for your kitchen's design, style, and budget.