Bathrooms are a private haven in your house where you can enjoy a luxurious bath and take a hot shower in peace. Nevertheless, when you find yourself constantly irked by the design of the bathroom and unsatisfied with the color palette, you should consider remodeling your bathroom. Bathroom remodeling services can completely elevate the current look of your home and add luxurious elements to enhance your experience. If you aren't sure what exactly you would like to change in your bathroom, you should consider exactly what bothers you most about the space. Is it the lack of a bathtub, the dated faucets, or the improper layout in your bathroom?
Whatever the issue may be, DreamHome Remodeling & Builders can help you renovate your bathroom space just according to your preferences. Our bathroom remodeling professionals are well-experienced in handling all kinds of requests regarding adding a new shower, a better vanity, and better-quality bathroom tiles. We can inspect your bathroom carefully to detect how you can benefit from our bathroom remodeling services to help you get the best value for your investment.
1. Poor or Outdated Décor
You may have moved into an old house with a rustic and heartwarming feel but almost ancient appliances and bathroom décor. Modern appliances and décor are necessary for comfort even in a home constructed before the 21st century; therefore, you should contact a trusted bathroom remodeling company to update your bathroom design. A bathroom remodeling expert can install new tiles in your bathroom with advanced shower heads and new metal details for aesthetic purposes.
2. Obvious Signs of Damage
If leaks and animal infestations have damaged your house, it may be that your bathroom's structure has become the victim of these problems. Leaks in pipes can cause water damage, ruin the appearance of the walls in your home, and even cause challenging problems like mold growth. With a cockroach infestation that has been left untreated for too long, there may be spots on your tiles or stains that are too unsightly and stubborn to be cleaned.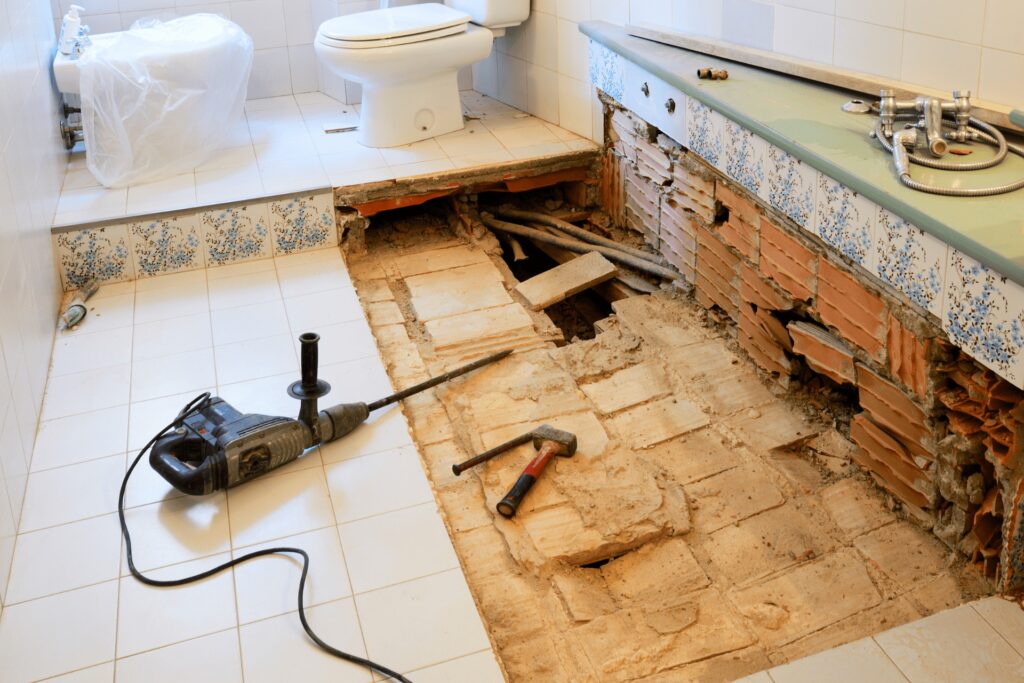 3. Poor Lighting Conditions
In a badly constructed bathroom, adding good lighting is always an issue. When a contractor does not pay attention to all the details of a bathroom, there are bound to be major mistakes like the placement of the light fixtures in your bathroom. If the placements of the light fixtures in your bathroom are in odd places or there is no space for natural lighting or air, you should consider bathroom remodeling as a priority. Our bathroom remodeling services can help you avoid any accidents in your bathroom's dark and wet areas with correctly placed lighting fixtures to allow for ample illumination.
4. Limited or No Storage Options
Do you find yourself pacing back and forth from your closet to your bathroom when you go for a simple shower, just to get your toiletries? If that is the case, you should invest in bathroom remodeling services to add storage space in the limited area of your bathroom. Our bathroom remodeling experts can add shelves in your bathroom and cabinets underneath your vanity and incorporate other smart storage options to keep all your favorite scented candles and soaps in your bathroom.
Get in Touch with Us Today!
DreamHome Remodeling & Builders offers a variety of bathroom remodeling services perfect for any project or budget. If you are a homeowner who wants to add comfort, space, and a beautiful design to all your bathrooms, call our bathroom remodeling experts today to schedule a consultation and discuss your needs.