Do you ever feel so rejuvenated after a spa treatment that you wish you never had to leave? Do you wish there was a way to bring a Zen spa vibe to your home? With the help of Zen spa bathroom decor, you can bring that atmosphere to your home bathroom. While there are countless ways to turn your bathroom into a spa, you will learn about five Zen spa bathroom decor ideas in this blog.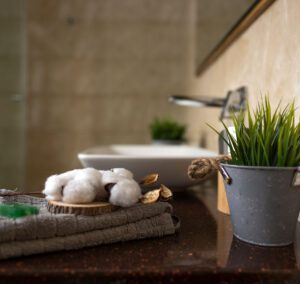 1. Hanging Plants
One of the best ways to bring that relaxing ambiance to your home bathroom is to use hanging plants. This first Zen spa bathroom decor idea involves hanging plants from the bathroom ceiling in strategic locations that amplify the relaxing atmosphere. This idea is most effective if you have large enough bathroom windows to give those plants sunlight. However, you can also use faux plants if you don't want to worry about the additional maintenance of living plants in your bathroom. 
2. Neutral Colors
Using neutral colors or finishes is a Zen spa bathroom decor idea that can either be outsourced or completed as a DIY project. Painting your walls a neutral color and using neutral finishes on your bath, shower, cabinets, and other parts of your bathroom will enhance the Zen atmosphere you are trying to create. Whites, greys, browns, and tans will allow you to reimagine that you are receiving a luxury spa treatment in your home. 
3. Scented Candles
This next idea for Zen spa bathroom decor will enhance the visual appeal of your bathroom and recreate the feeling of a spa with calming scents. For this reason, scented candles make for a strong addition to your Zen spa bathroom. Scents such as lavender, vanilla, lemon, eucalyptus, rosemary, or jasmine will add to that relaxing feeling, all while taking advantage of some natural, soft lighting. Scented candles are a great way to kill two birds with one stone when building a Zen spa atmosphere for your bathroom. 
4. Reflective Surfaces
If you have the time and resources to do so, you can add reflective surfaces in your bathroom to recreate that spa-like aesthetic. This can mean installing larger mirrors, polished tiles, or even changing up any current lighting fixtures to give your bathroom a reflective and airy look. The airy and bright aura of your bathroom can improve your mood after a long, stressful day at work. 
5. Nature And Water Motifs 
Whatever Zen spa bathroom decor you choose, the key element to remember is to utilize motifs based on nature and bodies of water. These motifs might feature fish (specifically koi), plants, bamboo, smooth round rocks, lotus flowers, and bodies of water such as lakes or even raindrops. You can display stacked smooth round rocks on one of your bathroom surfaces or use a Shoji screen divider between the bathtub and the rest of the bathroom that depicts any of these motifs. Artwork depicting these motifs is another easy way to bring the tranquility of Zen spa bathroom decor to your home bathroom. 
Give Your Bathroom A Zen Spa Remodel With DreamHome! 
If you are someone who needs the perfect atmospheric setting to relax and rejuvenate after a long day, consider including these five Zen spa bathroom decor ideas. There are many other ways you can bring this aesthetic to your bathroom. If you feel so inclined, you can even remodel your current bathroom and fully embrace this style. 
The question: who could possibly bring your Zen spa bathroom vision to life? If you live in the Bay Area, the answer is DreamHome Remodeling and Builders. Contact us today so our team can give your bathroom the best version of a Zen spa bathroom remodel possible.