Are you looking for bathroom remodeling ideas? A bathroom remodeling project can add a lot of value to your house. From improving its functionality to adding to your property's value, you can achieve a lot from a simple bathroom remodeling project.
So whether you are planning small upgrades for your bathroom or planning an entire makeover, read on to find the best bathroom remodeling ideas. It's time to transform your old bathroom into modern spa-like spaces that leave you rejuvenated after a long day.
Bathroom Remodeling Ideas
1. Add Plants
We know plants in a bathroom sound a little extra. But since people are adding plants to nearly all of their indoor spaces, why leave behind bathrooms? Plants add a natural element to your bathrooms and make them resemble real spas. They add a pop of color to our bathrooms and transform the space into a cozy and relaxing space where you can go to unwind after a long day at work. Forget booking an expensive spa in a forest-facing resort. Turn your bathroom into a spa!
2. Install the Right Flooring
Although solid wood does add to the 'natural look of your bathroom, it is not the ideal choice for a bathroom and may sound impractical and difficult to maintain. Rather than choosing a hardwood floor for your bathroom, opt for tiles that not only work the best for bathrooms but also add a luxurious look to your bathroom. You can choose from ceramic, vinyl, porcelain, and various other options available.
3. Light It Up!
In a space where you do everything from your skincare routine to shaving to hair styling, you definitely need a lot of light in your bathroom. You need enough light to properly examine yourself in the mirror. Be it natural light or artificial light, make sure your bathroom is well lit. Make sure you have a lot of light near your vanity area. But don't go ahead and buy blinding lights that defeat the whole purpose of "therapeutic bathrooms." Instead, buy dim lights that not only serve the purpose of offering visibility but also make your bathroom look cozy.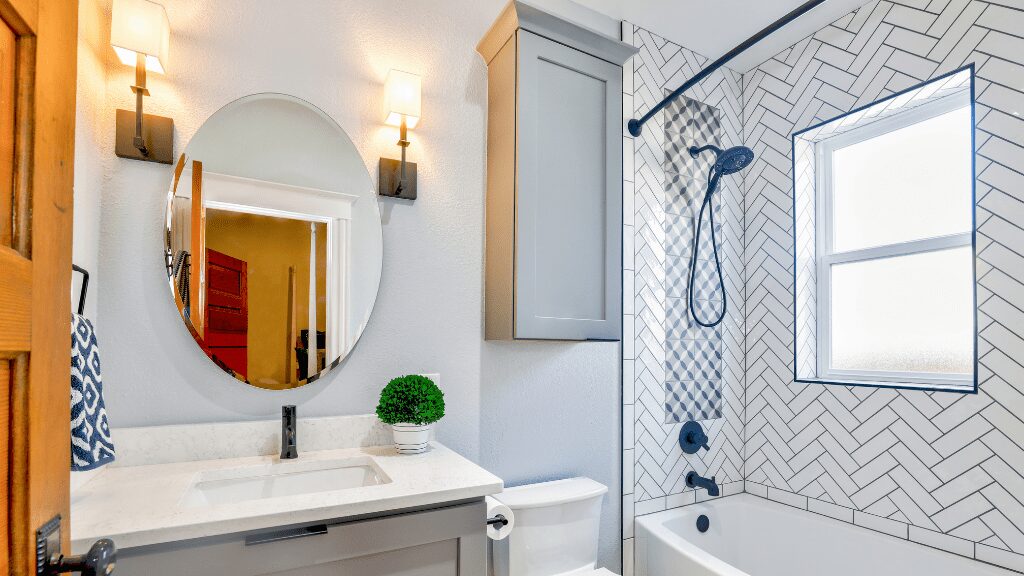 4. Add a Lot of Mirrors
Mirrors in the bathroom are not just for aiding in your skincare routine. In fact, mirrors play a bigger role. Mirrors make your bathrooms look airy and expanded by reflecting all the lights that come into them. Many people add several mirrors to their bathrooms for optimum light and openness.
5. Take Care of the Ventilation
Every type of bathroom needs ventilation. A lot of it! Be it a big window or an exhaust fan, make sure your bathroom is 100% functional ventilation outlets to make the spaces breathable. Make sure to check the capacity of your bathroom exhaust fans before buying them.
6. Pick the Right Colors
To make the most of your bathroom paint job, make sure to stick with neutral hues or whites. These colors make your bathrooms look bigger and brighter. In addition to complementing the plants in your bathroom, this color would instantly give off a soothing feeling as soon as you walk into your bathroom. Ditch the old dark colors, which, despite looking attractive, make your spaces appear darker and smaller.
Do You Need More Than Bathroom Remodeling Tips?
Bathroom remodeling tips are not always enough for your to complete your project on your own. Make sure you hire the right remodeling partner to get the job done. DreamHome Remodeling & Builders is a home remodeling and building company operating in the Greater San Jose area. We offer all kinds of bathroom remodeling services to help you achieve your bathroom goals. Call us at (415) 650-2586.