Marble countertops have long been used in European homes but have since made their way to the United States. This stone's high maintenance has been overlooked because of its natural beauty. Marble is one of the more porous stones, meaning it can easily absorb substances that come in contact with its surface. For this reason, it is critical you care for your marble countertops as best as possible.
Fortunately, there are ways you can maintain and care for your marble countertops. By following the steps below, you can ensure your marble stands the test of time. Marble will experience natural wear and tear, which is normal. But, you want to avoid furthering that aging and prevent unsightly stains as you perform activities in the kitchen.
Seal Your Marble
Stone, especially marble, will benefit greatly from a sealant. Sealants are used to prevent staining, scratches and increase the overall durability of the surface. As we have already mentioned, marble is more porous, resulting in a greater chance of damage. Marble countertops typically don't come sealed, but this is a job you can perform extremely easily after they are installed.
There are many ways you can seal marble countertops, but the most common options are polished or honed. A large majority of marble is honed because they are more resistant to scratches. However, honed marble is more susceptible to stains. Polished sealants give a glossy look, while honed sealants are more of a matte surface.
You can find a high-quality sealant at your local hardware store. Applying the sealant is easy and should be applied annually for the best protection.
Avoid Spills & Clean Properly
Marble countertops are gorgeous, but they are a job to maintain. In order to keep your marble looking pristine, you should avoid spills as much as possible. When spills do occur, clean them as soon as possible. There are many common cooking and personal care substances that can cause etching, marks made by acidic substances. Vinegar, lemon juice, wine, yogurt, tomatoes, toothpaste, shaving cream, and cologne are just a few examples of acidic substances.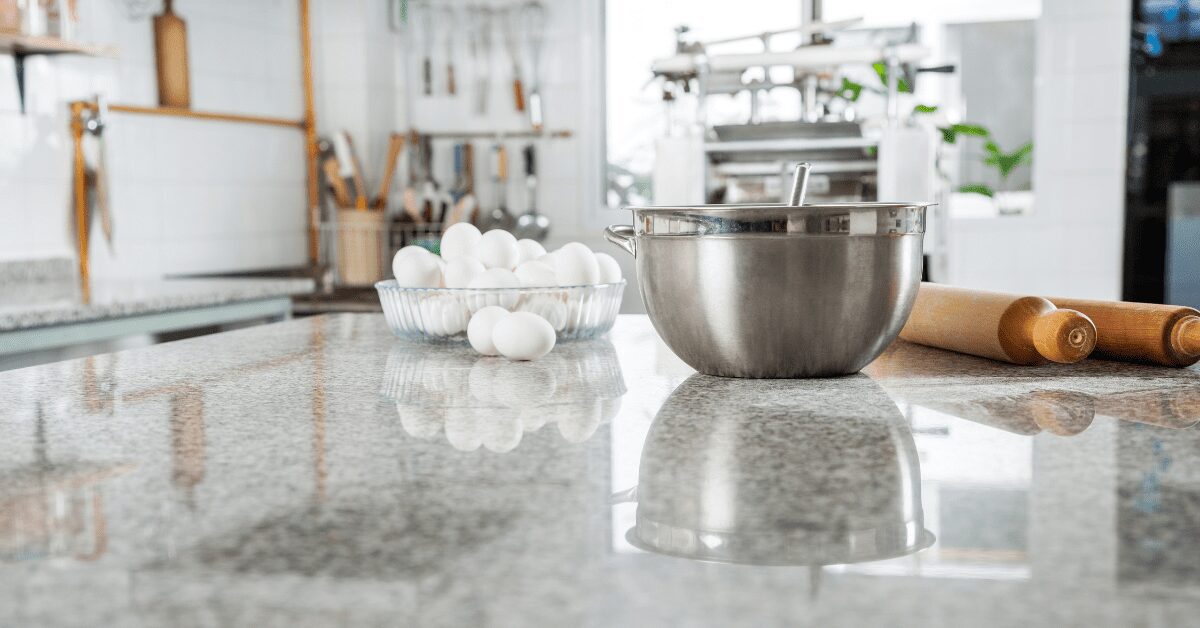 Stains and scratches can be buffed out, but etching marks require more aggressive treatments. Of course, acidic cooking ingredients are not the only substance you need to worry about. You should be mindful of the cleaning products you use too. Marble countertops only need a sponge, water, and nonabrasive cleaner like dish soap. Following this cleaning routine will help your marble remain beautiful.
Remove Stains
Accidents happen, so it's understandable if your marble countertops garner a few stains here and there. You can try to remove a pesky stain with the tools we mentioned earlier, but some stains may not want to come out. In those cases, you can consider a more aggressive tactic by looking for stone refinishing services.
It is also important to mention that you can remove the stains yourself with a hand sander. You may be hesitant to take sandpaper to your white marble, but assure you it isn't going to hurt it. At the same time, your marble cannot remain perfect forever. Scratches, stains, and etch marks are common with marble countertops, so be comfortable knowing your marble won't always look perfect.
Know How to Care for Marble Countertops
Yes, marble countertops require a lot of care and maintenance, but you can still enjoy them. Be sure to follow the tips on how to care for your marble above. Doing so will help them last longer and remain gorgeous. DreamHome Remodeling & Builders is always looking to improve your home through kitchen remodels and various other projects.
Revamp your kitchen with our kitchen remodeling services. Give us a call for a free estimate by calling (415) 650-2586 or visit our contact page to fill out the form. We look forward to helping you improve your kitchen with marble countertops and a pristine style.