Kitchen cabinets keep your many kitchen appliances in one place whenever you need them. They are also where you store dishware and various tools for cooking. If you are thinking about remodeling your kitchen, knowing what kind of cabinets you want for your kitchen beforehand will save a lot of time and money for you and the contractor. But what if you don't know how to choose kitchen cabinets when remodeling? Today, you are going to learn all about how to choose kitchen cabinets when remodeling, so that you can get what you need for your new kitchen sooner rather than later.
1. Consider Your Plans For Your Whole Kitchen
The easiest mistake you can make when executing a kitchen remodel is to think about each part of your kitchen in isolation. Don't think about your kitchen cabinets as separate from your kitchen, but as one piece of a whole kitchen. You need to think about your plan for your whole kitchen remodel and how your choice of kitchen cabinets will either match or clash with the rest of your vision.
2. What Will Your Kitchen Cabinets Be Used For?
Before even thinking about style, take time to consider the purposes of your remodeled kitchen cabinets. How much storage do you plan to utilize with your kitchen cabinets? What will you store in said cabinets? Are you interested in using kitchen cabinets for strictly utilitarian purposes or is your vision for them also decorative? If you want to show off your dishware, then glass-display cabinets will sufficiently serve that purpose. This will be an important step in how to choose kitchen cabinets when remodeling.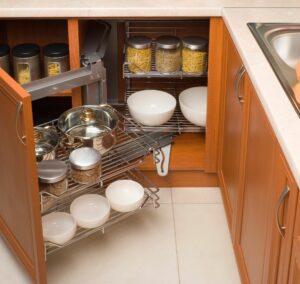 3. Determine What Kind Of Kitchen Cabinets You Want
As long as you're thinking about the big picture of your kitchen remodel, you will need to determine what kind of kitchen cabinets you want for your kitchen. Kitchen cabinets come in many different styles, materials, and can be used for different functions. The six major kitchen cabinet styles consist of shaker, craftsman, flat-front, beadboard, handle-free, and raised-panel. Each style brings its own unique perks and drawbacks. Shaker cabinets, for example, are fairly inexpensive due to their demand, but also require regular maintenance, which for some people, might be more of a challenge than they're worth.
4. Are You Willing To Commit To The Required Maintenance?
In going through the steps for how to choose kitchen cabinets when remodeling, you also want to think about the long-term. Kitchen cabinets cannot clean themselves, so they require your attention for a specific frequency and routine for maintenance. Depending on material, and style, different cabinets will come with different maintenance requirements. Make sure you are able to commit to whatever those maintenance requirements might entail.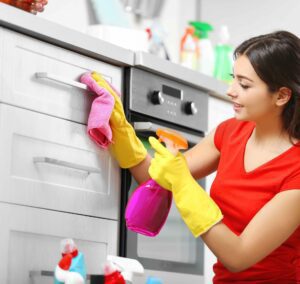 5. Don't Forget About Your Budget
When looking for new kitchen cabinets, be mindful of your budget. You want to make sure you can get the kitchen cabinets you want and need without going over budget. The best way to ensure you work within your budget is to make a budget plan prior to your remodel. With a budget plan, you can find the kitchen cabinets of your dreams without worrying about overspending.
DreamHome Remodeling Will Help You With Your Kitchen Remodel (Including Cabinets)!
Hopefully, after reading this blog, you feel less stressed by the thought of choosing kitchen cabinets when remodeling your kitchen. By following the advice described above, you should be able to find the best kitchen cabinets for your remodel. If you need help with this process, DreamHome Remodeling will be there for you every step of the way, so contact us today to start your kitchen remodel project.