Does your current bathroom feel rather cramped? Do you wish you had the resources to fund a bathroom remodel? The good news is that you can complete a small bathroom remodel on a budget. 
There are many ways to execute a budget-friendly remodel for your small bathroom. However, for the purposes of this blog, you'll get to take a closer look at six ideas for a small bathroom remodel on a budget. Any of these ideas will bring new life to your bathroom. 
1. Repaint Or Accent The Walls
The first possible idea for a small bathroom remodel on a budget is to repaint or accent your bathroom walls. Neutral and cool tones, or even soft greens, can easily revitalize your bathroom walls. Accents can come in the form of pattern wallpaper featuring images like paisleys, or simple wood can do the trick. The best part about this idea is that it's DIY-friendly, so if you like to do home projects, this might be the budget-friendly small bathroom remodel project for you. 
2. Tile Flooring
Tile is a very affordable material for flooring. You can pick tile of any color or pattern you believe best complements your bathroom. If you'd rather not worry about the hassle of flooring installation, you can also use peel-and-stick tiles. Once your new tile flooring is installed, you must stay on top of regrouting and keeping them clean.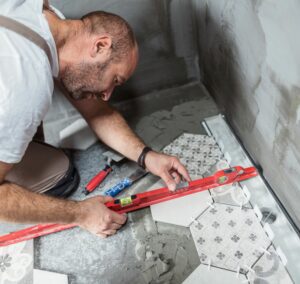 3. Touch-Up The Windows
If you have bathroom windows, touching them up can also be a great idea for a small bathroom remodel on a budget. The current state of your window treatment might be fading or yellowing, making it a perfect time to treat them once again. Window treatment can involve refreshing, changing the glass, or repainting the window panes. Install curtain rods and mildew-resistant bathroom curtains to reinvigorate your natural light source. 
4. Repurpose Your Vanity
Another DIY-friendly idea for a small bathroom remodel on a budget is repurposing your bathroom vanity. This process specifically involves finding a piece of old furniture, such as a nightstand or dresser, and repurposing it as a vanity. You can get that piece of furniture refinished so it looks good as new. You'll also be engaging in sustainable practices by repurposing something as a vanity instead of throwing it away and spending money on a new vanity. 
5. Refinish The Bathtub 
Is your bathtub getting old? Does its current appearance feel outdated? If either of these questions describes your current situation, consider refinishing your bathtub. You can refinish your bathtub on your own easily by purchasing a refinishing kit. That way, you can change the appearance of your bathtub to suit your current tastes. 
6. Upgrade Cabinet Hardware
Finally, this last idea for a small bathroom remodel on a budget is to upgrade the hardware of your bathroom cabinets. If your current bathroom cabinet hardware is aged and visibly damaged, an upgrade will work wonders to improve it. You can change old handles with new ones and ensure they match the rest of your hardware and fixtures in your bathroom. 
DreamHome Will Help You Complete A Small Bathroom Remodel On A Budget!
Hopefully, these six ideas for a small bathroom remodel on a budget have inspired and motivated you to refresh your bathroom. As much as you might want to do extensive remodeling, it sometimes isn't within your resources, and that's okay. By taking on smaller remodeling projects, you can get any part of your home back in excellent shape, from your bathroom to your kitchen. However, not all ideas for a small bathroom remodel on a budget are DIY-friendly. If you want to commit to any of those ideas for a small bathroom remodel, contact us at DreamHome Remodeling and Builders.