Whether you are planning a kitchen remodeling project for functionality, design, or because you plan to sell your home eventually, kitchen remodeling is no easy task. Kitchen remodeling takes time, effort, and perhaps most crucially of all, money. Kitchen remodeling costs only continue to increase each year as building materials, labor costs, and permits required for the project increase, too. According to Remodeling Magazine's 2022 "Cost vs. Value" report, the national average for a minor kitchen remodel is $28,279, while a major kitchen remodel costs $80,809. Don't stress, though, because in this blog, we're going to teach you a few ways you can save on kitchen remodeling costs. 
Levels of Kitchen Remodeling Projects
Before we begin, it's important to ask yourself what kind of kitchen remodeling project you want to do. Knowing which type of kitchen remodeling project you want is important because only some of the tips we provide will apply to your situation. There tend to be three levels to kitchen remodeling projects: low-range, mid-range, and high-end. 
Low-range kitchen remodeling costs are reasonable, and this is because most changes being made to the kitchen in this type of project are cosmetic. This means that hardware and countertops might be replaced, a backsplash added, and walls might be painted. 
Mid-range kitchen remodeling is one of the most common remodels. It tends to include the same projects low-range kitchen remodels include, as well as appliances and cabinets being updated. 
The high-end kitchen remodel includes floorplan changes and demolition. Appliances will be replaced, islands will be created, and cosmetic upgrades will be made to the space. The major cost of this remodel is wiring and plumbing changes.
Ways to Save on Kitchen Remodeling Costs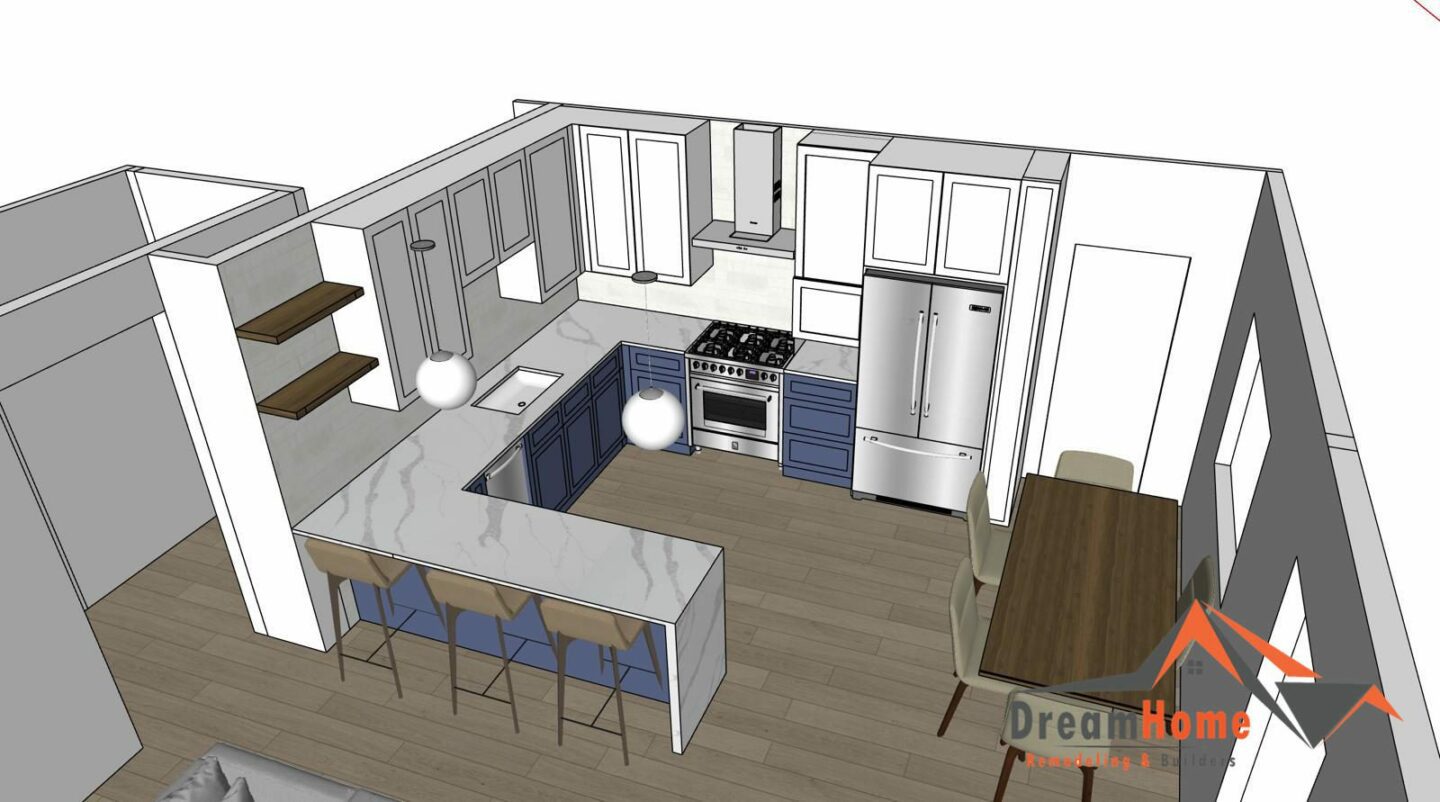 Keep Your Existing Floor Plan
For those who do not mind the current layout of your kitchen, this is a great way to save on kitchen remodeling costs. Major demolition is required when you choose to revamp your kitchen's floor plan, and plumbing and electrical will likely be relocated. As previously stated, plumbing and electrical changes hike up the cost of your remodel a significant amount. Most of your budget will go towards the layout instead of new materials, appliances, and surfaces. 
Save on Cabinets
Many homeowners love the sound of "custom cabinetry," but custom cabinetry is expensive. Instead, hang on to your old cabinets and reface and paint them, or buy stock cabinets. When you reface cabinets, you keep the framework of the cabinet but remove the doors, hardware and all. You can treat the doors and framework with new veneer or laminate and paint them. New hardware is also a perfect way to save money while rejuvenating your cabinets. 
Buying stock cabinets is another way to save on kitchen remodeling costs. You can find stock cabinets at your local home center. While they may not have as nice of a ring to them as "custom cabinetry" does, the quality of stock cabinets is getting better all the time. They are cheaper, and any handyman or contractor can install them. 
Choose Functional Flooring
Hardwood is certainly the go-to trend in any remodeling project, but you don't need to install natural hardwood flooring. Choosing vinyl flooring with a wood appearance–minus hardwood's lack of spill resistance–can achieve the same look and feel while being more functional and cost-effective. There are still more options if you're looking for a pretty tile. Ceramic tile, laminate, and vinyl all come in tile options that will keep your kitchen more clean, safe, and durable than the natural stuff.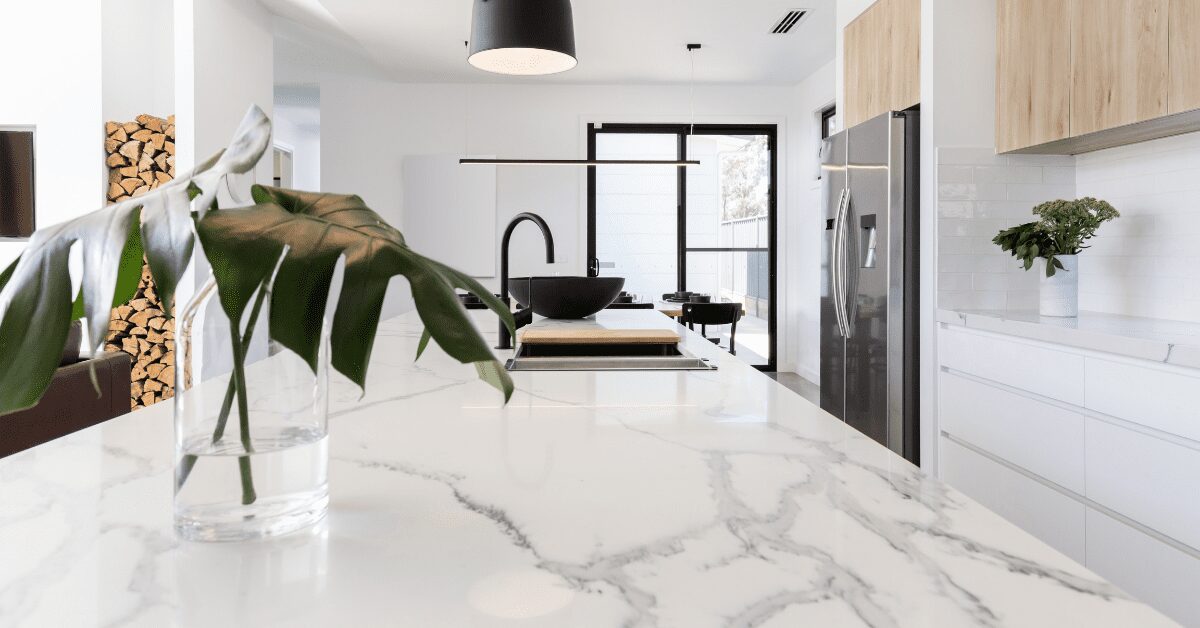 Save on Countertops
If you're going for a cosmetic upgrade to your kitchen, you might want to splurge on high-end countertops, but don't break the bank when there are more effective and durable options. Kitchen remodeling costs tend to skyrocket when you add floorplan changes, appliance upgrades, and countertop replacements to the bill, but it doesn't have to. 
The most desirable and expensive countertops you can choose from are stainless steel, concrete, natural stone, and quartz. However, options like tile, butcher block, and solid surface also exist and are very on-trend. Better yet, they are reasonably priced. Most high-end countertops cost $175 per square foot, but these options will only cost between $50 to $100 per square foot. 
Create Your Dream Kitchen Without Breaking the Bank
At DreamHome Remodeling & Builders, we want to make the kitchen remodeling process as stress-free for you as possible. This means working closely with you to find out what you want from your kitchen remodeling project while still sticking to a budget you're comfortable with. Our team of remodeling experts and contractors want to do everything in our power to give you the dream kitchen you've always dreamed of while finding ways to save on kitchen remodeling costs. Contact us today with any questions and get a free quote on your kitchen remodeling project.