As you begin dreaming about a bathroom remodel, you may have a vision in your mind of the ambiance, color palette, and fixtures you would like to use. But have you considered which variety of bathroom tile best suits your vision and your needs? There are countless options for colors, designs, and materials for bathroom tiles, so we've rounded up our favorite 6 types of tile which we think are best suited for bathroom remodels due to their unique properties and beauty. 
Ceramic Bathroom Tile
One of the most common and accessible tile options for any space is ceramic tile. Not only is ceramic durable and long-lasting, but the glazing process allows for a wide variety of colors and designs, from bold, modern patterns to imitations of natural stone patterns. One especially trendy option for ceramic tiles are subway tiles, which have a characteristic size, shape, color, and pattern to produce a clean, slightly industrial look. Make sure to check the lot number when purchasing ceramic bathroom tiles to confirm that you won't have a slight variation in color between tiles from different lots.
Ceramic comes in both glazed and unglazed varieties, which are suited for different purposes. Unglazed tile produces a rustic, natural finish that is more slip-resistant, while glazed tile has a smoother, brighter luster, and is less porous than unglazed tile. This being said, both types of ceramic tiles need a waterproof membrane under the tile anywhere where there will be extended exposure to water, such as in a shower.
Ceramic tile is one of the cheapest options on the list, usually ranging from under $1 to $3 per square foot.
Porcelain Bathroom Tile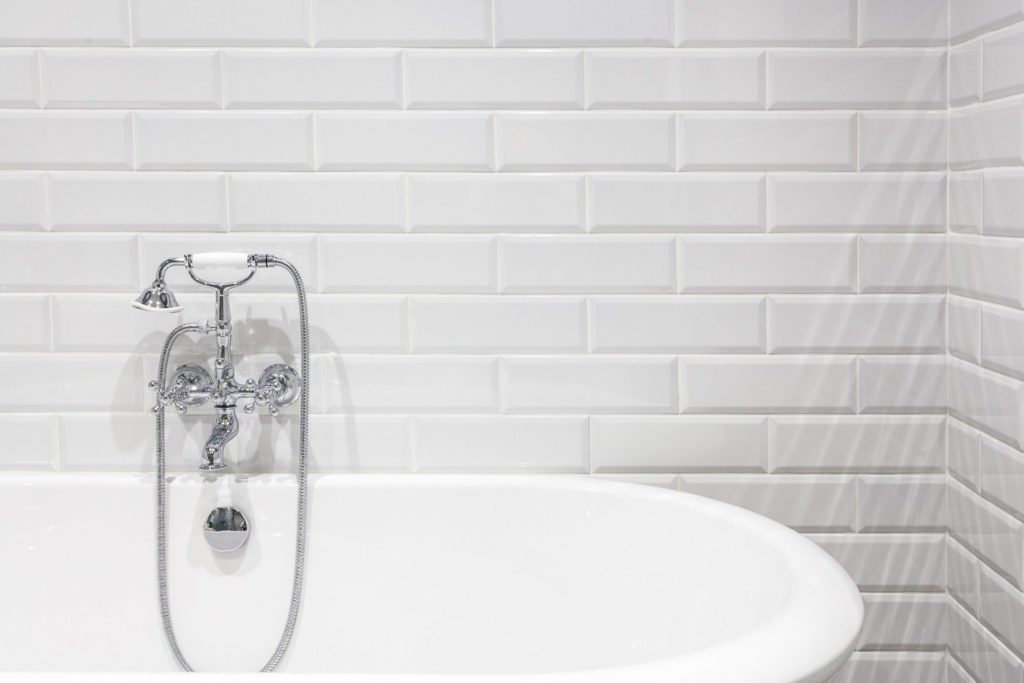 Porcelain is likely the second most popular tile for bathrooms. It tends to be more expensive than ceramic due to its elegant finish and high durability. It is more impervious to water, more stain resistant, and stronger than ceramic tile as well, preventing cracking or breaking over time. Through-bodied porcelain tiles also do not show chipping as clearly as glazed porcelain or ceramic, since the color runs through the tile, instead of being added to the surface alone.
Similar to ceramic, porcelain bathroom tiles come in countless colors and styles, from edgy and modern to muted and earthy, and can be used for mosaic patterns and other geometric designs, like subway tile and herringbone patterns.
Glass Bathroom Tile
Glass tiles offer a beautiful brightness of color in both matte and glossy finishes. Glass is one of the most waterproof and stain-resistant materials available for bathroom tile, and also provides a sense of depth, since the color is beneath a layer of transparent glass. Glass tiles are typically not patterned within a single tile, like porcelain or ceramic tiles can be, but you can use two or more colors of glass tile to create a larger pattern.
However, glass is best suited for walls, backsplashes, or over a shower floor with a shower pan beneath. Take care when choosing a finish for glass tile that will be in a shower, as glossy tiles can be slippery when wet and be a potential hazard.
Travertine Bathroom Tile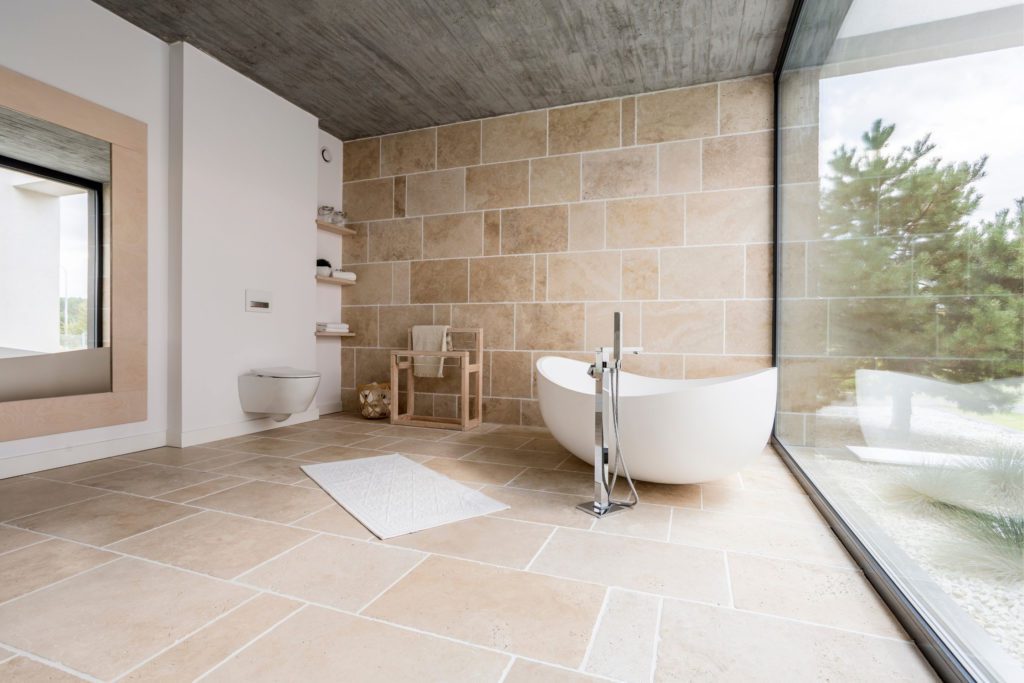 Travertine is a durable and beautiful natural stone tile with a variety of finish options. It can be used both indoors and outdoors, but because of its porosity, travertine used in a bathroom should be sealed with resin to reduce water permeating through the stone.
Polished travertine is sealed with resin and polished to a high shine. This finish is not suitable for bathroom floors, as it can be very slippery when wet.

Honed travertine is filled and then lightly polished for a matte luster finish it is more slip-resistant than polished travertine while maintaining a more natural appearance.

Tumbled travertine is tumbled in a machine with other stones to create a smooth appearance with a naturally rounded edge.

Brushed travertine is burnished with wire brushes, which creates a flat, matte surface.
Each of these provides a slightly different appearance and mood. Depending on the other décor and color choices you make, travertine bathroom tile may be a perfect choice for your space.
Marble Bathroom Tile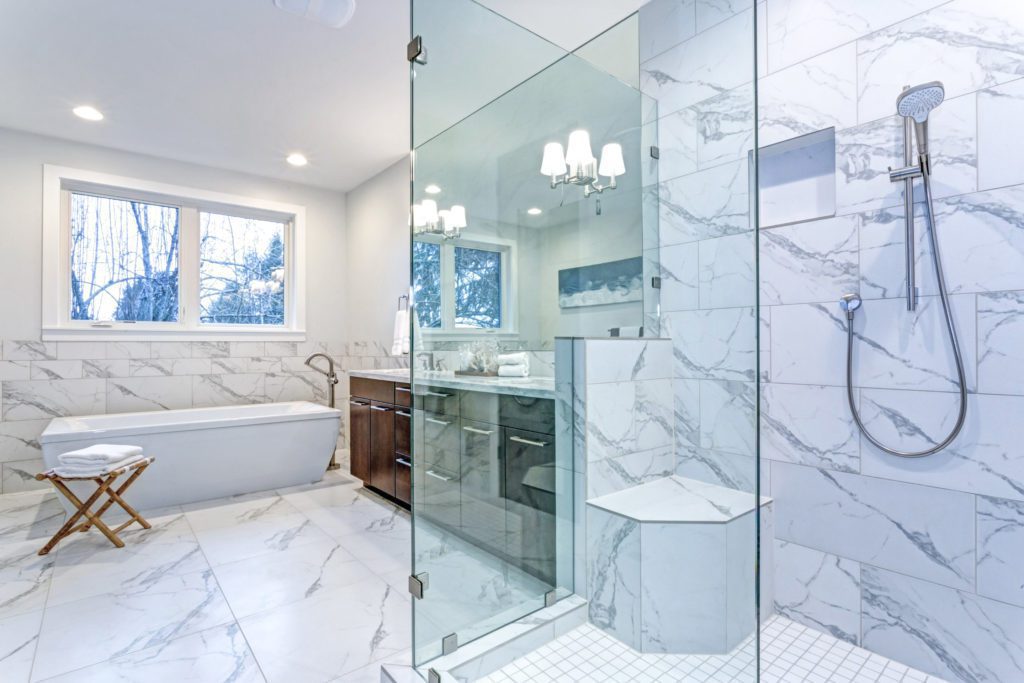 Marble is a high-end stone material which can vary in color and veining based on the location where the marble was mined. Marble is available in both polished and honed finishes, which both should be sealed if they might be exposed to water. Polished marble can become slippery when wet, and could pose a risk if used on floors or in the shower.
Marble can also stain if exposed to acidic liquids, so take care in choosing your bath and beauty products to ensure the surface of your bathroom tile remains unblemished. It also needs to be cleaned with marble-specific cleaning agents, and sealant should be re-applied at least once per year for polished marble and twice a year for honed marble. Learn more on caring and maintaining marble here.
Marble is one of the most expensive tile options, usually running $10 to $40 per square foot, based on the quality of the material. However, because of its beauty and timeless appearance, many love their marble-tiled bathrooms and would never go back!
Which Bathroom Tile is Right For My Remodeling Project?
Our team at DreamHome Remodeling can help you make a bathroom tile selection that suits your tastes and needs perfectly. Many of these materials require professional installation to prevent unevenness, breakage and ensure the longevity of your bathroom. Call us today at (415) 650-2586 to start your bathroom renovation, or learn more on our bathroom remodeling page!