Our bathrooms should be an in-house retreat. For most U.S homeowners, this is not the case. In a Statista survey, 33% of homeowners who renovated their primary bathroom stated the main reason was that they could no longer stand their bathroom. If you find you fall into this category, a bathroom remodel might be for you. 
When you're given a second chance to make your primary bathroom exactly how you want it, many ideas are probably floating around in your head. There are many inspirational bathroom remodels out there, as well as current trends that homeowners are implementing in their homes. Here are some of the best features to consider for a bathroom remodel. 
Frameless Glass Showers
Glass showers are one of the most popular bathroom remodel trends at the moment. They add a light, luxurious feel to every bathroom. However, most glass shower enclosures are seeing an upgraded addition by going frameless. Compared to typical shower enclosures, frameless glass showers don't require metal support, giving them a seamless look. Furthermore, they are more functional than regular framed doors. Framed glass shower doors only open outwards, but frameless glass shower doors can open inwards and outwards.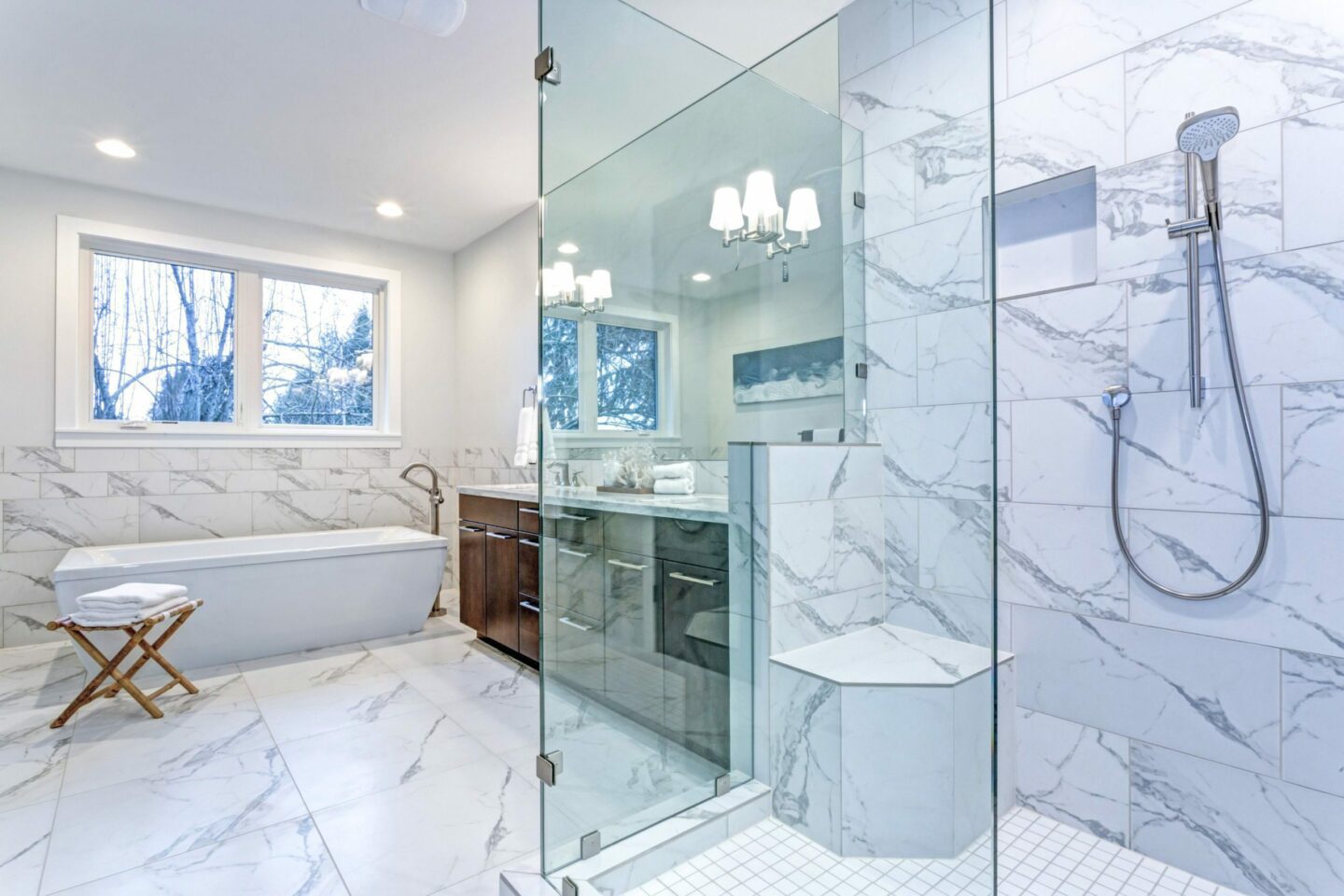 Dramatic Lighting
One of the most important things you should prioritize with your primary bathroom remodel is accounting for lighting. Both natural light and light fixtures are extremely important in any bathroom. If your bathroom does not have some form of natural lighting, you might consider adding in a new window or even a skylight. 
Additionally, unique chandeliers are becoming common in bathrooms. The placement of these chandeliers is optimal above bathtubs or in between double sinks over the vanity. Whatever you decide to do with the lighting in your bathroom, choose something fun, bold, and right up your alley. 
Tile Accents
Whether you incorporate tile into your backsplash or the floor of your stand-up shower, we highly recommend it. No matter your tile design, it will stand out and make your bathroom look alive. Tile can make any bathroom glamorous and shine, whether you choose a chevron pattern, mosaic tile, or hexagonal tile. The options are endless.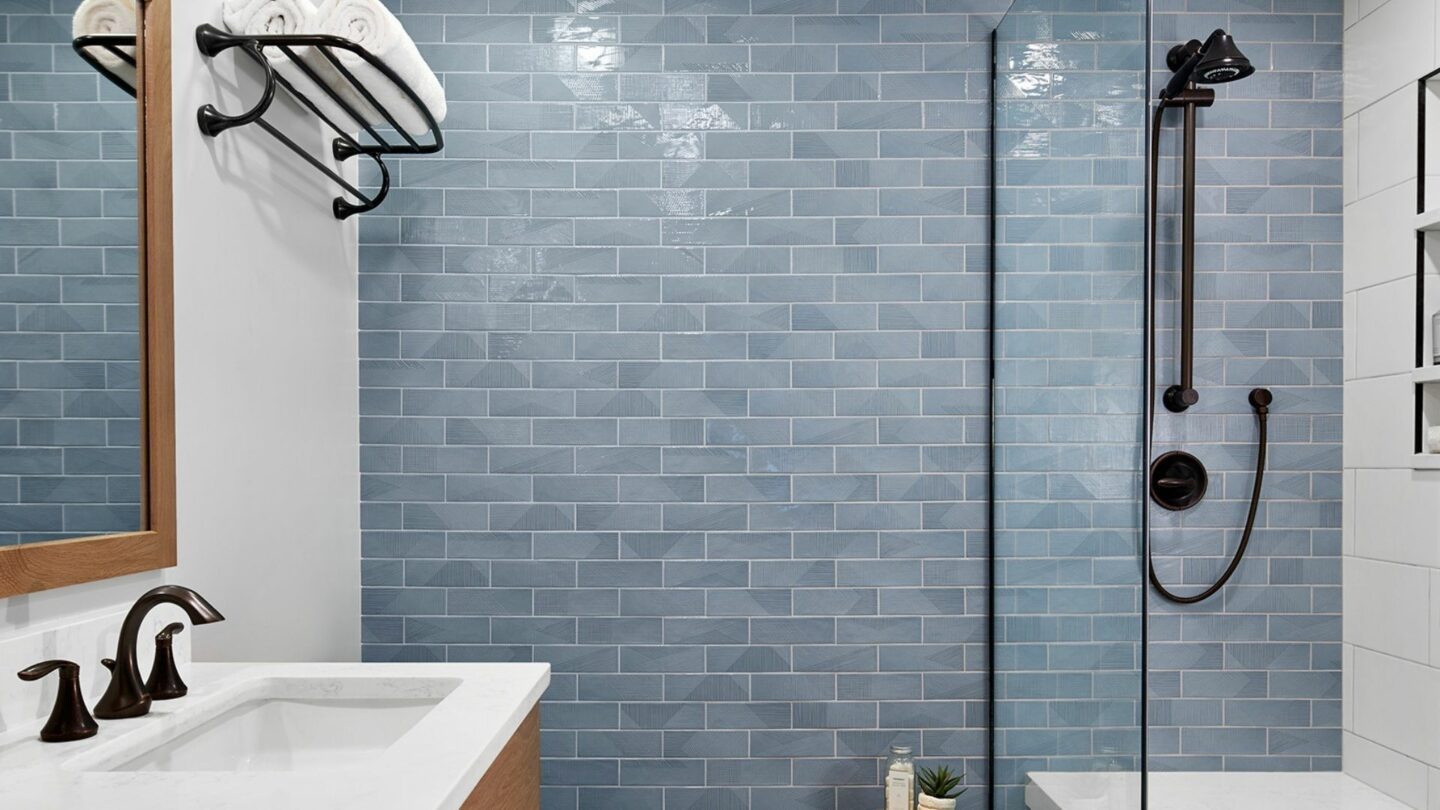 Freestanding Bathtub
The best way to relieve stress at the end of the day is by taking a soak in a freestanding bathtub. These bathtubs are roomier than a typical shower and bathtub combo, and many have additional features, such as jets and bubbles that a whirlpool bathtub includes. Freestanding bathtubs are one of the best features to incorporate into your bathroom remodel plans.
Makeup Vanity
When you choose to remodel your bathroom, you want to do things differently than they were done before. Bathroom remodels are your second chance at creating your personal oasis, so why not incorporate a makeup vanity? If you have the room in your plans, including a sit-down area for putting on makeup or getting ready in the morning is a really nice feature. Most homeowners today choose to incorporate it into their double sink space, where the counter dips to a lower level to accommodate seating. 
Bathroom Remodelers That Deliver 
You likely start and end your day in the bathroom, making it one of the most important rooms in your home. The bathroom should allow you to relax and wash off the day's stressors. When your bathroom fails to meet these necessities, it becomes more of a stressor. In this case, bathroom remodeling can make you fall in love with your bathroom all over again. This is where DreamHome Remodeling & Builders comes in. 
We've been servicing the San Jose and San Diego, CA areas for a long time with stellar results and inspiring remodels. No matter what features you choose to incorporate into your primary bathroom remodel, DreamHome's team is ready to work with you. Contact us for a free estimate today.