If you are looking for the best kitchen remodeling ideas, read on to find inspiration for your new kitchen project. No matter what idea you have in mind, these ideas will align with any and all of your desired styles. So let's go ahead and turn your old kitchen into a contemporary one, shall we?
Kitchen Remodeling Ideas
1. Upgrade Your Countertop
Who doesn't love a new countertop area? If the old countertop of your kitchen is worn out or cracked, it's time to replace it with a shiny new tile that is more appealing. Tiles come in various colors, patterns, and designs. Choose the one that harmonizes with your idea kitchen design. A squeaky-clean countertop is going to be enough to make chopping vegetables or kneading flour fun again! Whether it is granite or marble, go ahead change your countertops for an upgraded look.
2. Build a Kitchen Island
A kitchen island is all the rage these days in a modern kitchen. Kitchen islands add a great spot for your family to prepare, wait for, or share the meals together. They are also great for storing food and dining. No matter what size your kitchen is, you can always add a kitchen island to your kitchen.
3. Repaint Your Kitchen Cabinets
Kitchen cabinets can look worn-out or become dirty due to greasy steam coming out of your stoves. With a little repaint job, you can transform your old cabinets into new ones and upgrade the entire look. Give the old kitchen cabinets in your house a little upgrade by repainting them with a modern and more sophisticated finish. Consider painting neutral tones to make your kitchen look bigger and brighter.
4. Make Your Kitchen Brighter
Today's home interiors are all about being lit and open. You can turn your small, dark kitchen into a brighter and more open space by opening up a few windows and installing new lights. Wherever possible, build a window in your kitchen to let natural light come inside. Moreover, add more lights to your kitchen so that the space looks more open and breathable to work in. A dark and cozy kitchen is something from the past now.
5. Change Your Appliances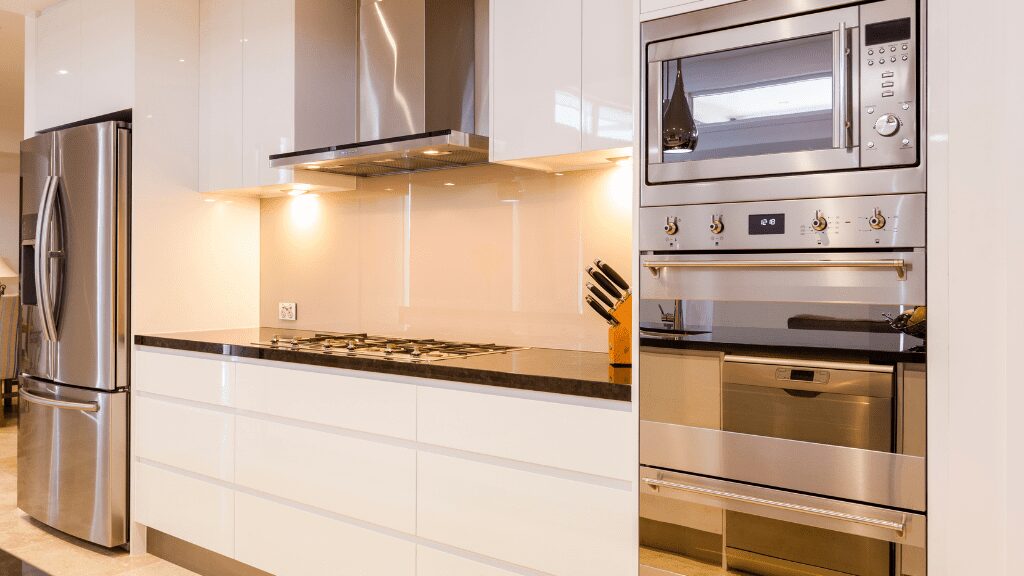 Got a range of old appliances that have been in your kitchen for decades? It's time to swap them out with new energy-efficient appliances to meet your modern needs and save on your utility costs. Consider installing a new microwave, oven, refrigerator, and dishwasher that is more energy-efficient and functional than the older model.
6. Redo Your Flooring
If you are looking for a complete kitchen makeover, you should also consider redoing your kitchen flooring. When it comes to flooring, you have tons of options to take your pick from. Be it a hardwood floor or a ceramic tile, choose an option that goes with your desired kitchen style and then choose from the various color, texture, and pattern options.
7. Add Mirrors
We know how difficult the idea of installing mirrors in your kitchen sounds, but hear us out! If you have seen those stainless steel mirrored surfaces in high-end kitchens, then you would know what we are talking about. Add those stainless steel finishes to your kitchen island or cabinets that have a mirrored surface.
8. Use Different Colors
Choose a color palette for your kitchen that comprises two or three complementing colors. Create a theme for every element in your kitchen and stick to the selected 2 or 3 colors to give your kitchen a harmonized look. Be it your cabinets, flooring, paint job, or any other thing, make sure the color you choose complements the rest of the look.
More Than Kitchen Remodeling Ideas
DreamHome Remodeling & Builders is a home remodeling and building company operating in the Greater San Jose area. We offer all kinds of kitchen remodeling services to help you achieve your kitchen goals. Give our team if you are unable to tackle the above kitchen remodeling ideas. Our contractors will handle all the designing, demolition, building, permits, and more! Give us a call today at (415) 650-2586 for a free estimate!